Rearview mirror with compass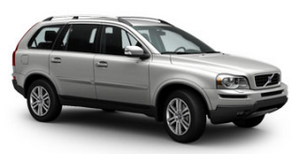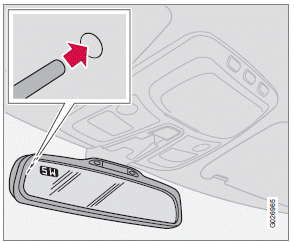 The upper left-hand corner of the rearview mirror has an integrated display that shows the compass direction toward which the car is pointing. Eight different directions can be displayed:
N, NE, E, SE, S, SW, W and NW. The display shows your car's orientation with respect to true north.
If the compass is activated, it will be displayed automatically when the ignition is in postilion II or when the engine is running. The compass can be switched off or on by pressing the inset button on the rear side of the mirror (see the inset illustration). This can be done with straightened paperclip or similar object. The button is recessed approximately 1 in. (2.5 cm) in the mirror.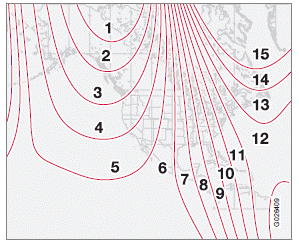 Magnetic zones
The earth is divided into 15 magnetic zones.
The compass is initially set for the zone to which the car was delivered, and should always be adjusted if the car is driven to a new magnetic zone. To do so:
1. Switch the ignition to position II.
2. Press the button on the rear side of the mirror with straightened paperclip or similar object for approximately 3 seconds until ZONE is displayed. The number of the current magnetic zone will also be displayed.
3. Press the button repeatedly until the number for the desired zone (1 – 15) is displayed.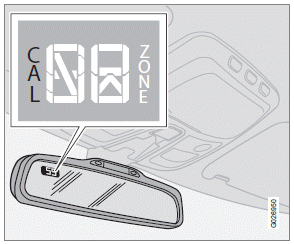 Calibrating the compass
After several seconds, the compass heading will again be displayed, and the change of magnetic zones is complete.
Calibrating the compass
1. Stop the car in a large, open area, away from traffic.
2. Turn off as many electrical devices in the car as possible to avoid interference with the compass (e.g. audio system, etc).
3. Using a pen or similar object, hold the button (on the rear side of the mirror) depressed for at least 6 seconds.
"CAL" will be displayed.
4. Drive slowly in a circle at a maximum speed of 5 m.p.h. (8 km/h) until CAL is no longer displayed.
NOTE
This step can also be done by driving normally until CAL is no longer displayed.
Calibration is complete.
See also:
Advanced Sirius settings
This menu function enables you to make settings on certain Sirius satellite radio functions. To access this menu: 1. Press OK/MENU. 2. Scroll to the Advanced settings menu and press OK/MENU. W ...
Accessing the tire sealing system
The tire sealing system is stowed under the floor of the cargo area. To access it: 1. Lift the floor hatch in the cargo area. 2. Lift out the tire sealing system. NOTE • The tire sealing system ...
Integrated two-stage booster cushion
Volvo's optional integrated booster cushions are located in the outboard seating positions. These booster cushions have been specially designed to help safeguard children in the rear seat. They ...