Opening/closing the hood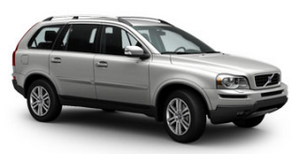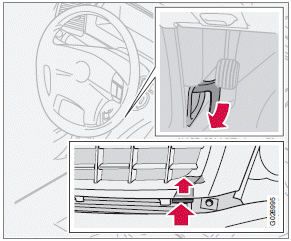 Opening the hood
1. Pull the lever located under the left side of the dashboard to release the hood lock.
2. Lift the hood slightly.
3. Press up the release control located under the front edge of the hood and lift.
To close the hood, place your hand on it and press down until the hood locks in the closed position.
WARNING
• Do not grasp the ribs in the grille when closing the hood. If your fingers protrude through the grille, they could be injured on components in the engine compartment as the grille closes. We recommend pressing down on the hood to close it.
• Check that the hood locks properly when closed!
See also:
Towing vehicles with front wheel drive/ All Wheel Drive
Volvo recommends the use of flat bed equipment. If wheel lift equipment must be used, please use extreme caution to help avoid damage to the vehicle. In this case, the vehicle should be towed w ...
Temporary shut-off of the air conditioning
The air conditioning is momentarily disengaged during full-throttle acceleration or when driving uphill with a trailer. This may result in a temporary increase in cabin temperature. ...
Fog on the inside of the windows
The defroster function should be used to remove fog or mist from the inside of the windows. Keeping the windows clean with a commercially available window washing spray will also help prevent f ...