Limitations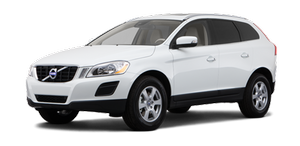 The sensor used by City Safety™ is designed to detect cars and other larger motor vehicles ahead of your vehicle in both daylight and darkness.
However, there are certain limitations and the laser sensor's function may be reduced by, for example, heavy rain or snowfall, or by dense fog or thick, blowing dust or snow. Condensation, dirt, ice or snow on the windshield may also interfere with the sensor's function.
Objects such as warning flags hanging from long objects on the roof or accessories such as auxiliary lights or protective arches on the front of the vehicle that are higher than the hood may also impede the sensor's function.
Braking distance to the vehicle ahead increases on slippery road surfaces, which may reduce City Safety's capacity to avoid a collision.
In situations like this, the DSTC system (see page 149) will help provide the best possible braking capacity and stability.
City Safety™ emits infrared light and measures the way in which the light is reflected. Therefore, vehicles or objects with low-reflective surfaces may not be detected. Normally, the license plate and taillight reflectors give the rear section of a vehicle ahead sufficient reflective surfaces to be detected.
NOTE
• Keep the windshield in front of the laser sensor free of ice, snow, dirt, etc. See page 168.
• Snow or ice on the hood deeper than 2 inches (5 cm) may obstruct the sensor.
Keep the hood free of ice and snow.
• Do not mount or in any way attach anything on the windshield that could obstruct the laser sensor.
See also:
2012 Volvo XC60 Review
I had high hopes for the 2012 Volvo XC60. I recently (reluctantly) ended a long-term relationship with my own beloved Volvo, a C30, because it no longer fit my evolving family. Having recently added ...
Connecting a device to the A/V-AUX socket
The A/V-AUX socket is located under the center armrest in the tunnel console 1. Connect the device's video cable to the yellow connector. 2. Connect the left audio cable to the white connector ...
Hazard warning flashers
Location of the hazard warning flasher button The hazard warning flasher should be used to indicate that the vehicle has become a traffic hazard. To activate the flashers, press the button i ...