12-volt sockets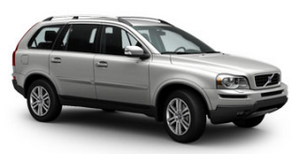 These 12 volt sockets can be used to plug in certain accessories such as cellular telephones, etc.
The ignition key must be in at least position I for the sockets in the front seat and the optional socket at the rear of the center console to function.
The maximum current consumption is 10A (120W) if only one of the 12-volt sockets in the passenger compartment is in use. If both the front and rear sockets are used at the same time, the maximum current consumption per socket is 7.5A (90W).
12-volt socket in the cargo compartment
NOTE
Х If the 12-volt sockets are used while the engine is not running, there is a risk that the vehicle's battery will be discharged.
Х If the ignition is switched off and a device drawing more than 0.1 A is connected to a socket, a battery warning
will be displayed in the text window.
Х The covers should be kept on when the auxiliary sockets are not in use.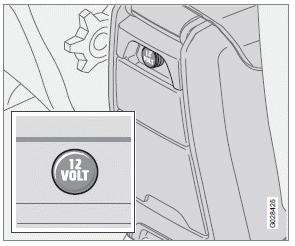 12-volt socket at the rear of the center console
Ashtrays/cigarette lighter
The auxiliary socket can also be used to power a cigarette lighter. Accessory cigarette lighters and ashtrays can be purchased from your Volvo retailer.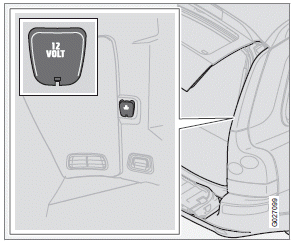 12-volt socket in the cargo compartment
See also:
Jump starting
Follow these instructions to jump start your vehicle's dead battery or to jump start another vehicle's dead battery using your vehicle. Although your vehicle's battery is located under the flo ...
12-volt sockets
12-volt socket in the front tunnel console The electrical sockets can be used for 12-volt accessories such as cell phone chargers and coolers. For the socket to supply current, the ignition must ...
Limitations
Main channel vs. sub-channels (FM only): The main channel is the only channel that can receive in hybrid mode (both digital and analogue). If a frequency has subchannels, they are broadcast i ...