Seat belt use during pregnancy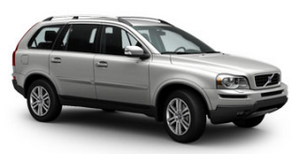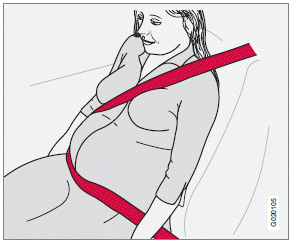 The seat belt should always be worn during pregnancy. But it is crucial that it be worn in the correct way. The diagonal section should wrap over the shoulder then be routed between the breasts and to the side of the belly. The lap section should lay flat over the thighs and as low as possible under the belly. It must never be allowed to ride upward. Remove all slack from the belt and insure that it fits close to the body without any twists.
As a pregnancy progresses, pregnant drivers should adjust their seats and steering wheel such that they can easily maintain control of the vehicle as they drive (which means they must be able to easily operate the foot pedals and steering wheel). Within this context, they should strive to position the seat with as large a distance as possible between their belly and the steering wheel.
Child seats
Please see page 38 for information on securing child seats with the seat belts.
Seat belt maintenance
Check periodically that the seat belts are in good condition. Use water and a mild detergent for cleaning. Check seat belt mechanism function as follows: attach the seat belt and pull rapidly on the strap.
See also:
Introduction
The Park Assist Camera uses the display in the center console to show the area behind the car while you are backing up. PAC also shows guiding lines in the on-screen image to indicate the direction ...
Design concept
Volvo's design language, created under the design directorship of Peter Horbury, reached its zenith in the Volvo C30 when it was launched in 2006. 'We were a bit more playful, less formal and more a ...
Checking the engine oil
The oil level should be checked at regular intervals, particularly during the period up to the first scheduled maintenance service. See page 339 for oil specifications. Refer to the Warranty a ...