Increasing or decreasing speed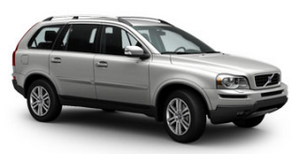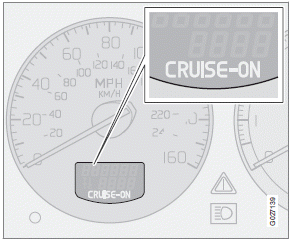 Use + or – in the following ways to increase or decrease the vehicle's speed:
1. Press and hold down + or – until the vehicle reaches the desired speed.
2. Press + or – for approximately a half second and release the button to increase or decrease vehicle speed by approximately 1 mph (1.6 km/h).
NOTE
Cruise control will not function at speeds below 20 mph. (30 km/h).
Braking
• Cruise control is automatically disengaged when the brake pedal is depressed. The currently set speed is stored in memory.
• Pressing resume

will return the vehicle to the previously set speed.
Acceleration
Momentary acceleration, such as when passing another vehicle, does not affect cruise control operation. The vehicle will automatically return to the previously set speed when you release the accelerator pedal.
Disengaging cruise control
To disengage cruise control, press the CRUISE button. CRUISE or CRUISE-ON will no longer be displayed in the information window in the instrument panel.
NOTE
Cruise control is automatically disengaged if:
• the engine is switched off
• the gear selector is placed in (N) Neutral
• the wheels start to spin or lock
• if an increase in speed is maintained for more than one minute
• if the vehicle's speed falls below approximately 20 mph (30 km/h).
See also:
Tire sealing system–temporarily repairing a flat tire
Temporarily repairing a flat tire is done in two stages: • Stage 1: The hole is sealed by pumping sealing compound into the tire. The car is then driven a short distance to distribute the sealing ...
Tire Pressure Monitoring System (TPMS)
NOTE USA – FCC ID: KR5S122780002 This device complies with part 15 of the FCC rules. Operation is subject to the following conditions: (1) This device may not cause harmful interference, and ...
Instrument overview
Instrument overview 1 Menus and messages, turn signals, high/low beams, trip computer 2 Cruise control 3 Horn, airbag 4 Main instrument panel 5 Audio system/Bluetooth hands-free cont ...