Increasing or decreasing speed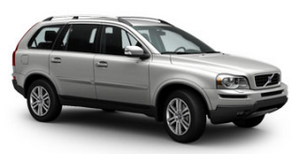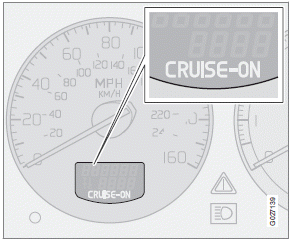 Use + or Ц in the following ways to increase or decrease the vehicle's speed:
1. Press and hold down + or Ц until the vehicle reaches the desired speed.
2. Press + or Ц for approximately a half second and release the button to increase or decrease vehicle speed by approximately 1 mph (1.6 km/h).
NOTE
Cruise control will not function at speeds below 20 mph. (30 km/h).
Braking
Х Cruise control is automatically disengaged when the brake pedal is depressed. The currently set speed is stored in memory.
Х Pressing resume

will return the vehicle to the previously set speed.
Acceleration
Momentary acceleration, such as when passing another vehicle, does not affect cruise control operation. The vehicle will automatically return to the previously set speed when you release the accelerator pedal.
Disengaging cruise control
To disengage cruise control, press the CRUISE button. CRUISE or CRUISE-ON will no longer be displayed in the information window in the instrument panel.
NOTE
Cruise control is automatically disengaged if:
Х the engine is switched off
Х the gear selector is placed in (N) Neutral
Х the wheels start to spin or lock
Х if an increase in speed is maintained for more than one minute
Х if the vehicle's speed falls below approximately 20 mph (30 km/h).
See also:
IR-reflecting windshield
Section of the windshield where the IR-coating is not applied An optional factory-installed infrared (IR) coating can be applied to the windshield to help protect the cabin from the sun's hea ...
Other alarm-related functions
Automatic re-arming If the doors are unlocked, the locks will automatically reengage (re-lock) and the alarm will re-arm after 2 minutes unless a door or the trunk has been opened. Audible/visual ...
Remote keys
Your vehicle is equipped with two coded remote key transmitters with integrated ignition keys called Key Integrated Remote (KIR). The remote key transmitters will also activate or allow " ...