Unlocking the fuel filler door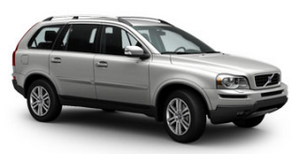 Press button (5) when the vehicle is at a standstill to unlock the fuel filler door. Please note that the fuel filler door will remain unlocked until the vehicle begins to move forward. An audible click will be heard when the fuel filler door relocks.
NOTE
If the fuel filler door does not unlock after the button has been pressed, drive the vehicle at a speed of at least 5 mph (8 km/h), stop the vehicle, and press the button again.
For information on unlocking the fuel filler door manually.
See also:
All Wheel Drive – AWD
Your Volvo can be equipped with permanent All Wheel Drive, which means that power is distributed automatically between the front and rear wheels. Under normal driving conditions, most of the eng ...
Unbuckling the seat belt
To remove the seat belt, press the red section on the seat belt receptacle. Before exiting the vehicle, check that the seat belt retracts fully after being unbuckled. If necessary, guide the b ...
Blower control
Turn the control clockwise to increase or counterclockwise to decrease the blower speed. If AUTO is selected, blower speed will be regulated automatically and this will override manual a ...