CHECK ENGINE Malfunction indicatorlight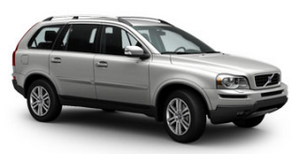 On-Board Diagnostics II (OBDII): As you drive, a computer called "OBDII" monitors your vehicle's engine, transmission, electrical and emission systems. The CHECK ENGINE light will light up if the computer senses a condition that potentially may need correcting. When this happens, please have your vehicle checked by a trained and qualified Volvo service technician as soon as possible.
A CHECK ENGINE light may have many causes.
Sometimes, you may not notice a change in your vehicle's behavior. Even so, an uncorrected condition could hurt fuel economy, emission cleanliness, and driveability.
Extended driving without correcting the cause could even damage other components in your vehicle.

Canadian models are equipped with this warning light.
See also:
Main AM menu
AM menu Show presets Scan Audio settings Sound stage Equalizer Volume compensation Reset all audio settings ...
Instrument overview
1 Headlights/Parking lights 2 Panel vents 3 Display 4 Temperature gauge 5 Odometer/Trip odometer/Cruise control indicator 6 Speedometer 7 Turn signal indicator lights 8 Tachometer 9 Amb ...
The laser sensor
The upper decal describes the laser beam's classification and contains the following text: Invisible Laser radiation – Do not view directly with optical instruments (magnifiers) – Class 1M ...