CHECK ENGINE Malfunction indicatorlight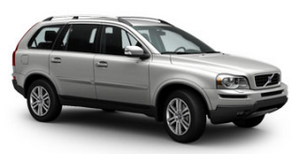 On-Board Diagnostics II (OBDII): As you drive, a computer called "OBDII" monitors your vehicle's engine, transmission, electrical and emission systems. The CHECK ENGINE light will light up if the computer senses a condition that potentially may need correcting. When this happens, please have your vehicle checked by a trained and qualified Volvo service technician as soon as possible.
A CHECK ENGINE light may have many causes.
Sometimes, you may not notice a change in your vehicle's behavior. Even so, an uncorrected condition could hurt fuel economy, emission cleanliness, and driveability.
Extended driving without correcting the cause could even damage other components in your vehicle.

Canadian models are equipped with this warning light.
See also:
Fuel requirements
Octane rating Minimum octane Typical pump octane label Volvo recommends premium for best performance, but using 87 octane1 or above will not affect engine reliability. Volvo engines are desi ...
Changing coolant
Normally, the coolant does not need to be changed. If the system must be drained, consult a trained and qualified Volvo service technician. Do not top off with water only. This reduces the rust- ...
Main AUX menu
AUX menu AUX input volume Audio settings ...