CHECK ENGINE Malfunction indicatorlight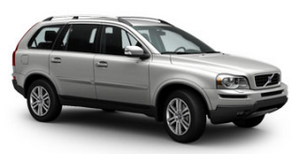 On-Board Diagnostics II (OBDII): As you drive, a computer called "OBDII" monitors your vehicle's engine, transmission, electrical and emission systems. The CHECK ENGINE light will light up if the computer senses a condition that potentially may need correcting. When this happens, please have your vehicle checked by a trained and qualified Volvo service technician as soon as possible.
A CHECK ENGINE light may have many causes.
Sometimes, you may not notice a change in your vehicle's behavior. Even so, an uncorrected condition could hurt fuel economy, emission cleanliness, and driveability.
Extended driving without correcting the cause could even damage other components in your vehicle.

Canadian models are equipped with this warning light.
See also:
Driving Dynamics: Chassis
The Volvo S40 combines an engaging, dynamic driving experience with a high level of active safety, thanks to its sophisticated suspension system, high level of torsional rigidity, wide track and t ...
2005 Volvo XC90 Review
Volvo's best-selling vehicle, the XC90, which arguably is the best crossover sport utility on the market, now comes with optional V-8 power. In the case of the XC90, this might be a matter of poor ...
Brake system
The brake system is a hydraulic system consisting of two separate brake circuits. If a problem should occur in one of these circuits, it is still possible to stop the vehicle with the other br ...