Instrument overview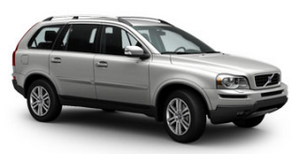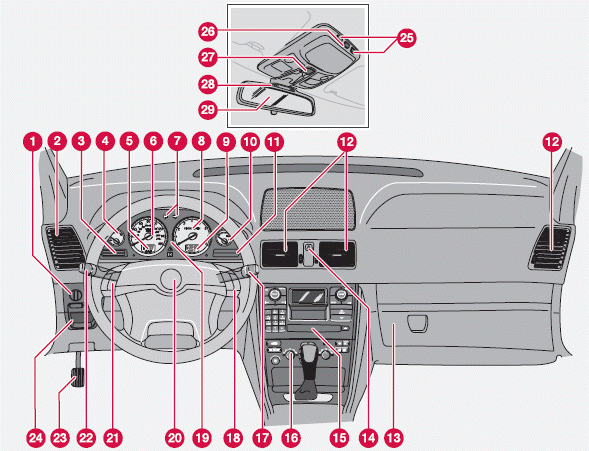 1 Headlights/Parking lights
2 Panel vents
3 Display
4 Temperature gauge
5 Odometer/Trip odometer/Cruise control indicator
6 Speedometer
7 Turn signal indicator lights
8 Tachometer
9 Ambient temperature gauge, clock, gear indicator
10 Fuel gauge
11 Indicator and warning symbols
12 Panel vents
13 Glove compartment
14 Hazard warning flashers
15 Audio system
16 Climate system controls
17 Windshield wiper/washer lever
18 Audio control buttons in steering wheel
19 Instrument panel
20 Horn
21 Cruise control buttons in steering wheel
22 Turn signals, High/low beams, READ-button
23 Parking brake pedal
24 Parking brake release handle
25 Reading lights
26 Courtesy light
27 Moonroof control
28 Seat belt reminder
29 Rearview mirror
Control panel in the driver's door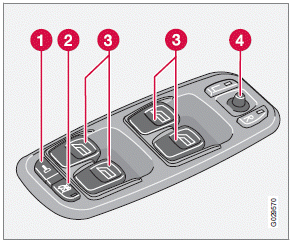 1 Central locking button
2 Lockout switch for rear seat power windows
3 Power window controls
4 Door mirror controls
See also:
Refrigerator
The refrigerator is located under the cover in the front seat center armrest. Use the button (see the inset illustration) to adjust the level of cooling. The refrigerator functions when the en ...
Roof loads
Using load carriers Load carriers are available as Volvo accessories. Observe the following points when in use: To avoid damaging your vehicle and to achieve maximum safety when driving, we ...
Volvo's concern for safety
Safety is the Volvo cornerstone. Our concern dates back to 1927 when the first Volvo rolled off the production line. Three-point seat belts (a Volvo invention), safety cages, and energyabsorbing i ...