Instrument overview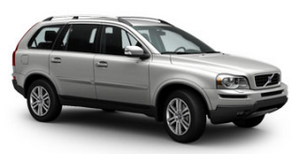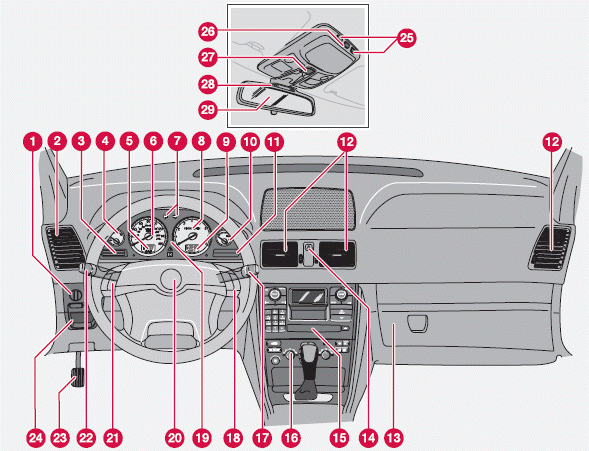 1 Headlights/Parking lights
2 Panel vents
3 Display
4 Temperature gauge
5 Odometer/Trip odometer/Cruise control indicator
6 Speedometer
7 Turn signal indicator lights
8 Tachometer
9 Ambient temperature gauge, clock, gear indicator
10 Fuel gauge
11 Indicator and warning symbols
12 Panel vents
13 Glove compartment
14 Hazard warning flashers
15 Audio system
16 Climate system controls
17 Windshield wiper/washer lever
18 Audio control buttons in steering wheel
19 Instrument panel
20 Horn
21 Cruise control buttons in steering wheel
22 Turn signals, High/low beams, READ-button
23 Parking brake pedal
24 Parking brake release handle
25 Reading lights
26 Courtesy light
27 Moonroof control
28 Seat belt reminder
29 Rearview mirror
Control panel in the driver's door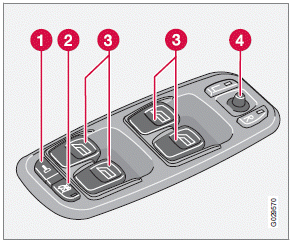 1 Central locking button
2 Lockout switch for rear seat power windows
3 Power window controls
4 Door mirror controls
See also:
Adjusting
1. Press the L button for the left door mirror or the R button for the right door mirror. The light in the button comes on. 2. Adjust the position with the joystick in the center. 3. Press the ...
Manual shifting – Geartronic
You can move the gear selector freely between the MAN (Manual) and D (Drive) positions to select forward gears while driving. Gears 3, 4, 5, and 6 have a "lock-up" function which reduces ...
Cleaning the sensors
Location of the front sensors Location of the rear sensors The sensors must be cleaned regularly to ensure that they work properly. Clean them with water and a suitable car washing detergent. ...