Touching up paintwork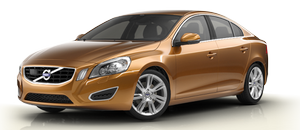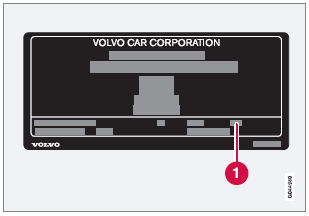 Paint code on the model plate
Paint damage requires immediate attention to avoid rusting. Make it a habit to check the finish regularly, for instance washing the vehicle. Touch-up if necessary.
Paint repairs require special equipment and skill. Contact your Volvo retailer for any extensive damage.
Minor scratches can be repaired by using Volvo touch-up paint.
Color code
Make sure you have the right color. The color code number is stated on the model plate.
Minor stone chips and scratches
Material:
Primer – can
Paint – touch-up pen
Brush
Masking tape
If the stone chip has not gone down to the bare metal and an undamaged color coat remains, you can add paint immediately after removing dirt.

NOTE
When touching up the vehicle, it should be clean and dry. The surface temperature should be above 60 °F (15 °C).
Minor scratches on the surface
If the stone chip has not penetrated down to the metal and an undamaged layer of paint remains, the touch-up paint can be applied as soon as the spot has been cleaned.
See also:
Tunnel console
1 - Storage compartment (for CDs, etc.) under armrest, AUX input/USB connector. 2 - Includes cup holder for driver and passenger, 12-volt socket and small storage compartment. ...
Manually opening the fuel filler door
If necessary, the fuel filler door can be opened manually: 1. Open the side hatch in the cargo compartment (on the same side as the fuel filler door). 2. Grasp the green cord with a handle. ...
Removing the remote key
The remote key can be removed from the ignition slot by pulling it out. ...