Rally bar R-Design models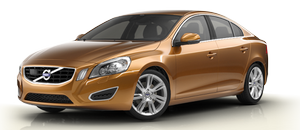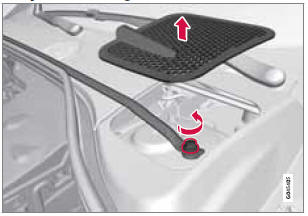 Rally bar and bulkhead hatch
Vehicles with the optional R-Design package are equipped with a rally bar in the engine compartment that must be removed before the battery can be replaced.
1. Remove the hatch in the bulkhead on both sides of the engine compartment (pry them up carefully with a plastic knife or similar object).
2. Remove the screw on each side of the engine compartment holding the rally bar in place.
3. Lift out the rally bar.
> The battery can now be removed (see the instructions in the previous section).
• After a new battery has been installed (see the following section), reinstall the rally bar in the reverse order.

NOTE
When reinstalling the rally bar, tighten the screws to 22 ft lbs (30 Nm).
See also:
Keypads
Keypads in the steering wheel 1 Cruise control, see page 152. Adaptive cruise control*, see page 154. 2 Infotainment controls, see page 207. ...
Unbuckling the seat belt
To remove the seat belt, press the red section on the seat belt receptacle. Before exiting the vehicle, check that the seat belt retracts fully after being unbuckled. If necessary, guide the b ...
Neutral position (N)
No gear is engaged and the engine can be started with the gear selector in this position. Apply the parking brake if the vehicle is stationary with the gear selector in position N. ...