Rally bar R-Design models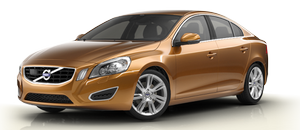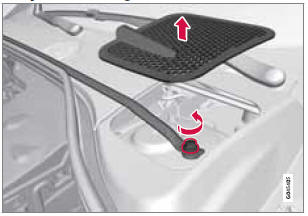 Rally bar and bulkhead hatch
Vehicles with the optional R-Design package are equipped with a rally bar in the engine compartment that must be removed before the battery can be replaced.
1. Remove the hatch in the bulkhead on both sides of the engine compartment (pry them up carefully with a plastic knife or similar object).
2. Remove the screw on each side of the engine compartment holding the rally bar in place.
3. Lift out the rally bar.
> The battery can now be removed (see the instructions in the previous section).
• After a new battery has been installed (see the following section), reinstall the rally bar in the reverse order.

NOTE
When reinstalling the rally bar, tighten the screws to 22 ft lbs (30 Nm).
See also:
Inflating tires
The tire sealing system can be used to inflate the tires. To do so: 1. Park the car in a safe place. 2. The compressor should be switched off. Ensure that the on/off switch is in position 0 ( ...
Introduction
The menu system provides access to menus for operating many of the vehicle's functions, such as setting the clock, door mirrors, locks, etc. Navigating in the menus is done using the buttons ...
Activating RSE
The RSE system can be activated using controls on the front or rear screens. From the front seat, press MEDIA (see the following illustration) and select RSE. From the rear seat, press the scree ...