Seeing, Being Seen & Being Heard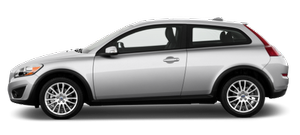 Visibility is good in the C30, even bordering on exceptional. I didn't find any objectionable blind spots, though the side mirrors could be a bit larger.
In addition to being a distinguishing design feature of the C30, the large glass hatch in back helps you see what's going on when you're backing up. When I first got the C30 I wondered if a tailgating car would appear to be too close, but I never got that sensation while driving.
The thing about small cars is that other drivers have a harder time seeing you, so you need to be ready for that. I was cut off more than usual in the C30, but you can't blame the car for that.
Being cut off all the time did lead me to discover one undeniably awesome feature of the C30: its horn. Instead of a wimpy, cutesy horn, the C30's is loud and robust. When I did get cut off, I hit the horn and could see the other driver jump from being startled by its bellowing note. (Not that I, ahem, ever did that deliberately.) Nordic skier Charlotte Kalla used to be my favorite Swede, but now it's whichever Volvo engineer put that horn in the C30. Bless you, sir or madam.
See also:
Cleaning the sensors
Location of the front sensors Location of the rear sensors The sensors must be cleaned regularly to ensure that they work properly. Clean them with water and a suitable car washing detergent. ...
Screen aspect ratio
Three screen aspect ratios can be set: Normal, Zoom 1 and Zoom 2. Normal: The image on the screen is presented at the normal aspect ratio (usually 4:3 or 16:9). Zoom 1: Full-screen image, but par ...
Owner maintenance
Periodic maintenance requirements and intervals are described in your vehicle's Warranty and Service Records Information booklet. The following points can be carried out between the normally sc ...