Seeing, Being Seen & Being Heard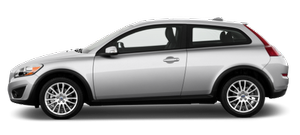 Visibility is good in the C30, even bordering on exceptional. I didn't find any objectionable blind spots, though the side mirrors could be a bit larger.
In addition to being a distinguishing design feature of the C30, the large glass hatch in back helps you see what's going on when you're backing up. When I first got the C30 I wondered if a tailgating car would appear to be too close, but I never got that sensation while driving.
The thing about small cars is that other drivers have a harder time seeing you, so you need to be ready for that. I was cut off more than usual in the C30, but you can't blame the car for that.
Being cut off all the time did lead me to discover one undeniably awesome feature of the C30: its horn. Instead of a wimpy, cutesy horn, the C30's is loud and robust. When I did get cut off, I hit the horn and could see the other driver jump from being startled by its bellowing note. (Not that I, ahem, ever did that deliberately.) Nordic skier Charlotte Kalla used to be my favorite Swede, but now it's whichever Volvo engineer put that horn in the C30. Bless you, sir or madam.
See also:
Operation
Settings are made by pressing MY CAR on the center console control panel and using the menus displayed. ...
Driving dynamics: engine
The second-generation, 2.4-litre, five-cylinder, diesel D5 is a cleaner and more advanced version of the engine fitted to the outgoing XC70. It gives superb performance (130mph) allied to fuel eco ...
New Tires
Remember that tires are perishable goods. As of 2000, the manufacturing week and year (Department of Transportation (DOT) stamp) will be indicated with 4 digits (e.g., 1510 means that the ti ...