2011 Volvo C30 Review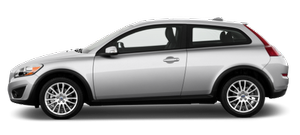 I really enjoyed the 2011 Volvo C30. It's fun to drive, has an excellent interior and it looks great after its recent redesign.
Now, if you're the sort of person who has to have a reason for everything Ч if you never buy a can of soda because you can get more for less in a two-liter bottle, for example Ч the Volvo C30 isn't for you: It's not utilitarian, it's not super-fast and it sure isn't cheap.
Yet I'm glad to see cars like the C30 being built; after all, if automakers can afford to make them, things can't be that bad, can they?
See also:
Tire age
Tires degrade over time, even when they are not being used. It is recommended that tires generally be replaced after 6 years of normal service. Heat caused by hot climates, frequent high loadi ...
Inflating tires
The tire sealing system can be used to inflate the tires. To do so: 1. Park the car in a safe place. 2. The compressor should be switched off. Ensure that the on/off switch is in position 0 ( ...
Manual shifting Ц Geartronic
You can move the gear selector freely between the MAN (Manual) and D (Drive) positions to select forward gears while driving. Gears 3, 4, 5, and 6 have a "lock-up" function which reduces ...