2011 Volvo C30 Review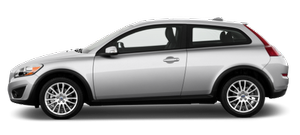 I really enjoyed the 2011 Volvo C30. It's fun to drive, has an excellent interior and it looks great after its recent redesign.
Now, if you're the sort of person who has to have a reason for everything — if you never buy a can of soda because you can get more for less in a two-liter bottle, for example — the Volvo C30 isn't for you: It's not utilitarian, it's not super-fast and it sure isn't cheap.
Yet I'm glad to see cars like the C30 being built; after all, if automakers can afford to make them, things can't be that bad, can they?
See also:
Introduction
Volvo recommends the use of Volvo trailer hitches that are specially designed for the vehicle. NOTE See page 353 for the maximum trailer and tongue weights recommended by Volvo. • Observe the l ...
Air distribution
1 Manual air distribution—defroster 2 Manual air distribution—dashboard air vents 3 Manual air distribution—floor The figure consists of three buttons. When a button is pressed, the correspondi ...
Guiding lines
The lines on the screen are projected as if they were a path on the ground behind the vehicle and are affected by the way in which the steering wheel is turned. This enables the driver to see pa ...