2011 Volvo C30 Review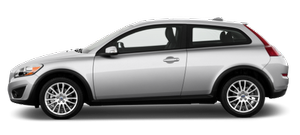 I really enjoyed the 2011 Volvo C30. It's fun to drive, has an excellent interior and it looks great after its recent redesign.
Now, if you're the sort of person who has to have a reason for everything — if you never buy a can of soda because you can get more for less in a two-liter bottle, for example — the Volvo C30 isn't for you: It's not utilitarian, it's not super-fast and it sure isn't cheap.
Yet I'm glad to see cars like the C30 being built; after all, if automakers can afford to make them, things can't be that bad, can they?
See also:
Folding down the rear seat backrests
The rear seat backrests are split and can be folded down together or separately 1. Pull the release control handle(s). 2. Fold the backrest forward. Adjust the center seat head restraint if nece ...
Disc eject
For reasons of traffic safety, an ejected disc must be removed within 12 seconds or it will be automatically drawn back into the slot. ...
Options and accessories
Optional or accessory equipment described in this manual is indicated by an asterisk. Optional or accessory equipment may not be available in all countries or markets. Please note that some veh ...