2011 Volvo C30 Review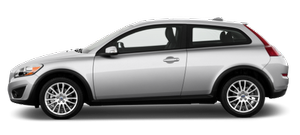 I really enjoyed the 2011 Volvo C30. It's fun to drive, has an excellent interior and it looks great after its recent redesign.
Now, if you're the sort of person who has to have a reason for everything — if you never buy a can of soda because you can get more for less in a two-liter bottle, for example — the Volvo C30 isn't for you: It's not utilitarian, it's not super-fast and it sure isn't cheap.
Yet I'm glad to see cars like the C30 being built; after all, if automakers can afford to make them, things can't be that bad, can they?
See also:
Intermittent wiping
With the lever in this position, you can set the wiper interval by twisting the thumb wheel upward to increase wiper speed or downward to decrease the speed. ...
Filling washer fluid
Location of the washer fluid reservoir The windshield and headlight washers share a common reservoir. The washer fluid reservoir is located on the driver's side of the engine compartment. Du ...
Location of the fuse boxes
1 Engine compartment 2 Under the glove compartment 3 Under the glove compartment 4 Cargo area ...