2011 Volvo C30 Review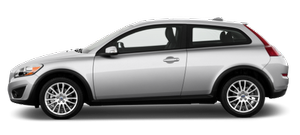 I really enjoyed the 2011 Volvo C30. It's fun to drive, has an excellent interior and it looks great after its recent redesign.
Now, if you're the sort of person who has to have a reason for everything Ч if you never buy a can of soda because you can get more for less in a two-liter bottle, for example Ч the Volvo C30 isn't for you: It's not utilitarian, it's not super-fast and it sure isn't cheap.
Yet I'm glad to see cars like the C30 being built; after all, if automakers can afford to make them, things can't be that bad, can they?
See also:
General information
The infotainment system displays information in four different views. The highest (most general) level is called the main view and is common to all system modes (RADIO, MEDIA, TEL). Each mode has ...
Checking and adding oil
Location of dipstick (1) and oil filler cap (2) The oil level should be checked at regular intervals, particularly during the period up to the first scheduled maintenance service. Х The vehicl ...
Air distribution
The incoming air is distributed from a number of different vents in the passenger compartment. Air distribution is fully automatic in AUTO mode. If desired, air distribution can be controlled ...