2011 Volvo C30 Review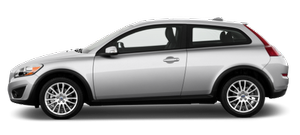 I really enjoyed the 2011 Volvo C30. It's fun to drive, has an excellent interior and it looks great after its recent redesign.
Now, if you're the sort of person who has to have a reason for everything Ч if you never buy a can of soda because you can get more for less in a two-liter bottle, for example Ч the Volvo C30 isn't for you: It's not utilitarian, it's not super-fast and it sure isn't cheap.
Yet I'm glad to see cars like the C30 being built; after all, if automakers can afford to make them, things can't be that bad, can they?
See also:
From outside the vehicle
The remote key locks and unlocks all of the doors and the trunk. Before the vehicle can be locked from the outside with the remote key, the driver's door must be closed. Any other door/trunk th ...
The Looks
The improvements over the previous generation are of course most noticeable by simply looking at the S80. I wouldn't call it striking, but it is handsome Ч bordering on the masculine, yet still ab ...
Using HomeLink
To operate, simply press and release the programmed HomeLink button. Activation will now occur for the trained device (i.e., garage door opener, gate operator, security system, entry door lock, ho ...