Warning symbols on the battery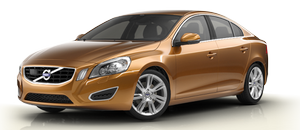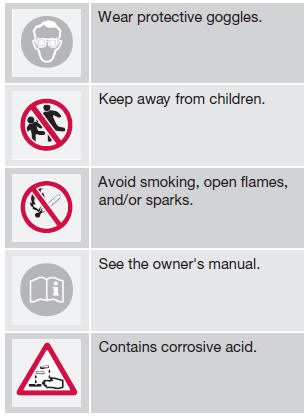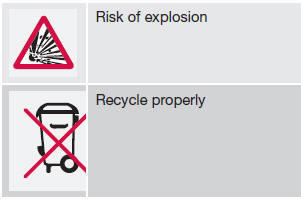 NOTE
A used battery should be disposed of in an environmentally responsible manner. Consult your Volvo retailer or take the battery to a recycling station.
Handling
Check that the battery cables are correctly connected and tightened.
Never disconnect the battery when the engine is running (for example, when replacing the battery).
If the battery is fully discharged a number of times, this may shorten its service life.
The service life of a battery is affected by factors such as the number of starts, driving conditions and climate. Extreme cold may also further decrease the battery's starting capacity.
Because the battery's starting capacity decreases with time, it may be necessary to recharge it if the vehicle is not driven for an extended period of time or if the vehicle is usually only driven short distances.
Never use a quick charger to charge the battery.
CAUTION
The infotainment system's energy-saving feature may not function correctly or at all, and/or a message may be displayed if a battery charger or jumper cables are not connected properly.
The negative terminal on the battery must never be used to connect a jumper cable or a battery charger. Only the ground point on the chassis may be used.
See page 116 for an illustration and additional information.

WARNING
Never expose the battery to open flame or electric spark.
Do not smoke near the battery.
Battery fluid contains sulfuric acid. Do not allow battery fluid to contact eyes, skin, fabrics or painted surfaces. If contact occurs, flush the affected area immediately with water. Obtain medical help immediately if eyes are affected.

NOTE
The life of the battery is shortened if it becomes discharged repeatedly.
See also:
Safety
Volvo's commitment to safety is as old as the company itself. As Assar Gabrielsson, one of the founders of Volvo, declared: "Cars are driven by people. The guiding principle behind everything ...
Connecting a device to the A/V-AUX socket
The A/V-AUX socket is located under the center armrest in the tunnel console 1. Connect the device's video cable to the yellow connector. 2. Connect the left audio cable to the white connector ...
Screen aspect ratio
Three screen aspect ratios can be set: Normal, Zoom 1 and Zoom 2. Normal: The image on the screen is presented at the normal aspect ratio (usually 4:3 or 16:9). Zoom 1: Full-screen image, but par ...