Checking and adding oil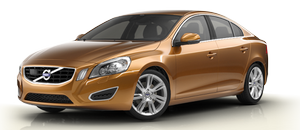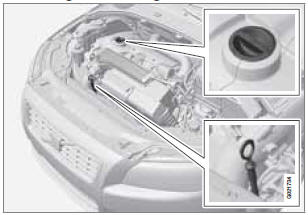 Location of the filler cap and dipstick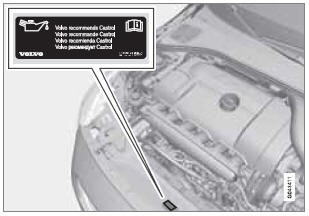 Volvo recommends Castrol oil products

NOTE
Before checking the oil:
The car should be parked on a level surface.
If the engine is warm, wait for at least 10 – 15 minutes after the engine has been switched off.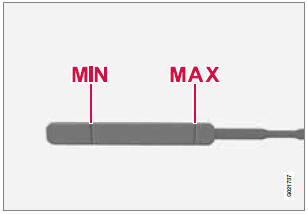 The oil level must be between the MIN and MAX marks on the dipstick
Checking the oil
1. Pull out the dipstick and wipe it with a lintfree rag.
2. Reinsert the dipstick, pull it out, and check the oil level. The level must be between the MIN and MAX marks.
3. Add oil if necessary. If the level is close to the MIN mark, add approximately 0.5 US quarts (0.5 liters) of oil.
4. Recheck the level and add more oil if necessary until the level is near the MAX mark.

WARNING
Do not allow oil to spill onto or come into contact with hot exhaust pipe surfaces.

NOTE
Synthetic oil is not used when the oil is changed at the normal maintenance intervals except at owner request and at additional charge. Please consult your Volvo retailer.
See also:
Operation
Chassis settings Use the buttons in the center console to change setting. The setting in use when the engine is switched off is activated the next time the engine is started. ...
Inflatable Curtain
The Inflatable Curtain (IC) This system consists of inflatable curtains located along the sides of the roof liners, stretching from the front side windows to the rear edge of the rear side windo ...
DSTC system
The Dynamic Stability and Traction Control system (DSTC) ...