Tire sealing system–overview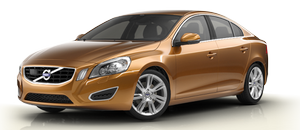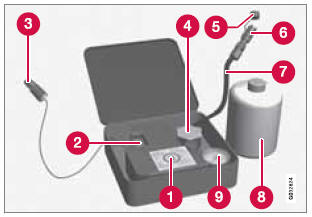 Speed limit sticker
On/Off switch
Electrical wire
Bottle holder (orange cover)
Protective hose cover
Air release knob
Hose
Bottle with sealing compound
Air pressure gauge

WARNING
Please keep the following points in mind when using the tire sealing system:
The sealing compound bottle (no. 8 in the illustration) contains 1.2-Ethanol and natural rubber-latex. These substances are harmful if swallowed.
The contents of this bottle may cause allergic skin reactions or otherwise be potentially harmful to the skin, the central nervous system, and the eyes.
Precautions:
Keep out of reach of children.
Do not ingest the contents.
Avoid prolonged or repeated contact with the skin.
Hands should be washed thoroughly after handling.
First aid:
Skin: Wash affected areas of skin with soap and water. Get medical attention if symptoms occur.
Eyes: Flush with plenty of water for least 15 minutes, occasionally lifting the upper and lower eyelids. Get medical attention if symptoms occur.
Inhalation: Move the person to fresh air. If irritation persists, get medical attention.

NOTE
Do not break the seal on the bottle. This occurs automatically when the bottle is screwed into the holder.
See also:
Erasing warning messages
When a low tire pressure warning message has been displayed, and the tire pressure warning light has come on: 1. Use a tire pressure gauge to check the inflation pressure of all four tires. 2. ...
Design concept
Volvo's design language, created under the design directorship of Peter Horbury, reached its zenith in the Volvo C30 when it was launched in 2006. 'We were a bit more playful, less formal and more a ...
Warning light—driver braking required
Adaptive Cruise Control can exert brake force that is equivalent to approximately 40% of the vehicle's total braking capacity. In situations requiring more brake force than ACC can provide and ...