Checking tire pressure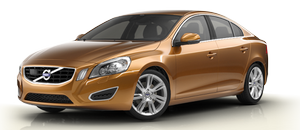 Cold tires
Inflation pressure should be checked when the tires are cold.
The tires are considered to be cold when they have the same temperature as the surrounding (ambient) air.
This temperature is normally reached after the vehicle has been parked for at least 3 hours.
After driving a distance of approximately 1 mile (1.6 km), the tires are considered to be hot. If you have to drive farther than this distance to pump your tire(s), check and record the tire pressure first and add the appropriate air pressure when you get to the pump.
If checking tire pressure when the tire is hot, never "bleed" or reduce air pressure. The tires are hot from driving and it is normal for pressures to increase above recommended cold pressures. A hot tire at or below recommended cold inflation pressure could be significantly under-inflated.
To check inflation pressure:
1. Remove the cap from the valve on one tire, then firmly press the tire gauge onto the valve.
2. Add air to reach the recommended air pressure.
3. Replace the valve cap.
4. Visually inspect the tires to make sure there are no nails or other objects embedded that could puncture the tire and cause an air leak.
5. Check the sidewalls to make sure there are no gouges, cuts, bulges or other irregularities.
6. Repeat this procedure for each tire, including the spare.

NOTE
If you overfill the tire, release air by pushing on the metal stem in the center of the valve. Then recheck the pressure with your tire gauge.
Some spare tires (available as an accessory) require higher inflation pressure than the other tires. Consult the tire inflation pressure table on page 275 or see the inflation pressure placard.
See also:
Storage spaces
Storage spaces 1 Compartment in door panel 2 Storage pocket on the front edge of the front seat cushions 3 Glove compartment 4 Storage compartment, 12-volt socket and AUX input/USB connector 5 ...
Re-installing the wheel
1. Clean the contact surfaces on the wheel and hub. 2. Lift the wheel and place it on the hub. Tighten the lug nuts 3. Install the wheel nuts and tighten handtight. Using the lug wrench, tight ...
Storing a channel
A total of 20 satellite channels can be stored; 10 channels each for Sirius 1 and 2, see page 214 for detailed information on storing channels. A long press on one of the number keys stores the ...