Roof loads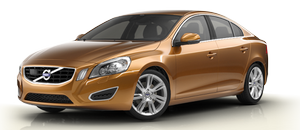 Using load carriers
Load carriers are available as Volvo accessories. Observe the following points when in use:
To avoid damaging your vehicle and to achieve maximum safety when driving, we recommend using the load carriers that Volvo has developed especially for your vehicle.
Volvo-approved removable roof racks are designed to carry the maximum allowable roof load for this vehicle: 220 lbs (100 kg). For non-Volvo roof racks, check the manufacturer's weight limits for the rack.
Never exceed the rack manufacturer's weigh limits and never exceed the maximum rated roof load of 220 lbs (100 kg).
Avoid single-point loads. Distribute loads evenly.
Place heavier cargo at the bottom of the load.
Secure the cargo correctly with appropriate tie-down equipment.
Check periodically that the load carriers and load are properly secured.
Remember that the vehicle's center of gravity and handling change when you carry a load on the roof.
The vehicle's wind resistance and fuel consumption will increase with the size of the load.
Drive smoothly. Avoid rapid starts, fast cornering and hard braking.
See also:
Operation
Controls and display 1 Resume previous settings, increase speed (each additional press increases speed by 1 mph (approximately 2 km/h). 2 Standby mode on/off 3 Set time interval 4 Put in activ ...
Electronic climate control, ECC
Electronic climate control, ECC 1 Temperature control, driver's side 2 Heated driver's seat* 3 Defroster (maximum effect) 4 Blower 5 Manual air distribution—floor 6 Manual air distribution—das ...
Queue Assist
The following functions are linked to your vehicle's automatic transmission and comprise the Queue Assist feature. Please note that the lowest speed that can be set is 18 mph (30 km/h), althoug ...