Roof loads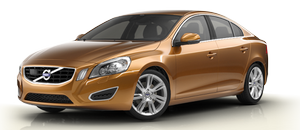 Using load carriers
Load carriers are available as Volvo accessories. Observe the following points when in use:
To avoid damaging your vehicle and to achieve maximum safety when driving, we recommend using the load carriers that Volvo has developed especially for your vehicle.
Volvo-approved removable roof racks are designed to carry the maximum allowable roof load for this vehicle: 220 lbs (100 kg). For non-Volvo roof racks, check the manufacturer's weight limits for the rack.
Never exceed the rack manufacturer's weigh limits and never exceed the maximum rated roof load of 220 lbs (100 kg).
Avoid single-point loads. Distribute loads evenly.
Place heavier cargo at the bottom of the load.
Secure the cargo correctly with appropriate tie-down equipment.
Check periodically that the load carriers and load are properly secured.
Remember that the vehicle's center of gravity and handling change when you carry a load on the roof.
The vehicle's wind resistance and fuel consumption will increase with the size of the load.
Drive smoothly. Avoid rapid starts, fast cornering and hard braking.
See also:
Heated front seats
The current seat temperature is shown in the center console display Press the button once for the highest heat level – three indicator lights come on. Press the button twice for a lower he ...
Cleaning the sensors
Park assist sensors The sensors must be cleaned regularly to ensure that they work properly. Clean them with water and a suitable car washing detergent. Ice and snow covering the sensors may c ...
Main DVD Video menu
Disc menu DVD disc menu Play/Pause/Continue Stop Subtitles Audio tracks Advanced settings Angle DivX® VOD code Audio settings ...