Introduction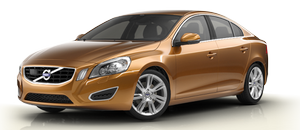 The load carrying capacity of your vehicle is determined by factors such as the number of passengers, the amount of cargo, the weight of any accessories that may be installed, etc.
To increase loading space, the rear seat backrests can be folded down, see page 91.
When loading the trunk, keep the following in mind:

The trunk lid can be unlocked an popped open slightly via the button located on the lighting panel, see page 69.
Load objects in the trunk against the backrest whenever possible.
Unstable loads can be secured to the load anchoring eyelets with straps or web lashings to help keep them from shifting.
Stop the engine and apply the parking brake when loading or unloading long objects. The gear selector can be knocked out of position by long loads, which could set the vehicle in motion.

WARNING
Stop the engine, put the gear selector in P, and apply the parking brake when loading or unloading long objects.
The vehicle's driving characteristics may change depending on the weight and distribution of the load.
A 44-pound (20 kg) object produces a force of 2,200 pounds (1,000 kg) in a head-on collision at 30 mph (50 km/h).
The rear seat should not be loaded to a level higher than 2 in. (5 cm) below the upper edge of the rear side windows. Objects placed higher than this level could impede the function of the Volvo Inflatable Curtain.
See also:
Warning symbols on the battery
NOTE A used battery should be disposed of in an environmentally responsible manner. Consult your Volvo retailer or take the battery to a recycling station. Handling Check that the bat ...
Repeat folder
This function makes it possible to play files in a folder repeatedly. When the last file has been played, the first file will begin again. To activate: 1. Press OK/MENU. 2. Turn TUNE to Repeat f ...
Environment
Volvo and the environment Volvo is committed to the well being of its customers. As a natural part of this commitment, we care about the environment in which we all live. Caring for the environm ...