Engine and cooling system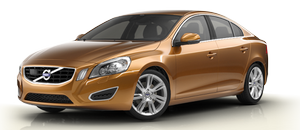 Under special conditions, for example when driving in hilly terrain, extreme heat or with heavy loads, there is a risk that the engine and cooling system will overheat. Proceed as follows to avoid overheating the engine.
Maintain a low speed when driving with a trailer up long, steep hills.
Do not turn the engine off immediately when stopping after a hard drive.

WARNING
The cooling fan may start or continue to operate (for up to 6 minutes) after the engine has been switched off.
Remove any auxiliary lights from in front of the grille when driving in hot weather conditions.
Do not exceed engine speeds of 4500 rpm if driving with a trailer in hilly terrain. The oil temperature could become too high.
See also:
USB
USB connector in glove compartment If you connect an iPod , MP3 player or a USB flash drive to the optional USB connector, this device can be controlled using the vehicle's audio controls ...
Security
Volvo's passion for safety also extends to issues of personal security. The Volvo XC90 is fitted as standard with a wide range of features designed to protect occupants from burglary, theft and as ...
Glossary of tire terminology
Terms The tire suppliers may have additional markings, notes or warnings such as standard load, radial tubeless, etc. • Tire information placard: A placard showing the OE (Original Equipment) ...