Call lists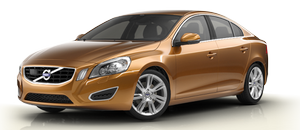 Call lists are copied to the hands-free function each time a cell phone is connected and the lists are updated while the phone is connected. In normal view, turn TUNE counter-clockwise to see the All calls list.
In phone mode, the various call lists can be displayed in Phone menu Call lists:
All calls
Missed calls
Answered calls
Dialed calls (certain cell phones show this list in reverse order)
Call duration
If no number has been stored, this menu can be accessed by pressing and holding 1.
See also:
Tire sealing system–temporarily repairing a flat tire
Temporarily repairing a flat tire is done in two stages: • Stage 1: The hole is sealed by pumping sealing compound into the tire. The car is then driven a short distance to distribute the sealing ...
Inflating tires
The tire sealing system can be used to inflate the tires. To do so: 1. Park the car in a safe place. 2. The compressor should be switched off. Ensure that the on/off switch is in position 0 ( ...
R-design
The R-DESIGN is a sporty version of the Volvo C30 and most closely resembles the Volvo C30 Design Concept. Exterior design includes an R-DESIGN badge in the front grille, colour coordinated bodykit, ...