Security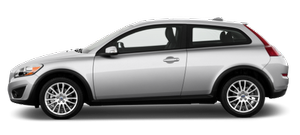 The Volvo C30's security systems were developed in association with the security experts at Thatcham. The C30 is fitted with a wide range of features designed to protect against burglary, theft or assault. An electronic immobiliser makes it impossible to start the car without the correct key, whilst deadlocks make it difficult to break in. The car is identified with 'anti-theft' markings, and the audio equipment is an integral part of the on-board electronics.
The sophisticated locking system can be individually programmed via the car's menu system so that a single 'blip' opens all the doors or just the driver's. The doors can be locked automatically as the car pulls away.
The 'home safe and approach' lighting system enables the driver to turn on inside lights, side marker lights and rear view mirror lights as he or she approaches. When leaving the car, the headlamps can light the path to the front door before automatically switching off.
The 'Volvo On Call' system is an advanced telematics programme that uses the integrated mobile phone and the built-in GPS satellite unit to ensure help is at hand. If an airbag is deployed in an accident, the Volvo On Call system automatically rings the emergency services. The satellite tells of your precise location even if the driver is unable to. Pressing the red SOS button on the integrated phone puts you straight through to the emergency services. If the car breaks down, the 'Volvo On call' button puts you straight through to a Volvo operator. Vehicle tracking is also available.
See also:
It's the little things that count
Storage Compartments (Puny, Fair, Ample, Galore): Fair Cargo/Trunk Space (Puny, Fair, Ample, Galore): Galore ...
ABS with EBD (Electronic Brake ForceDistribution)
EBD is an integrated part of the ABS system. EBD regulates the hydraulic pressure to the rear brakes to help provide optimal braking capacity. The brake pedal will pulsate during braking, which ...
Design Concept
The Volvo V50 is a Sportswagon - a sporty, dynamic, youthful five-door car with a smart, modern design. The rear of the Volvo V50 Sportswagon has a softer, more sports-orientated design than a typ ...