Storing a channel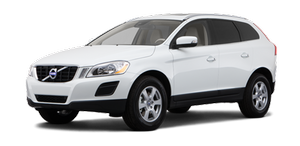 A total of 20 satellite channels can be stored; 10 channels each for Sirius 1 and 2, see page 215 for detailed information on storing channels.
• A long press on one of the number keys stores the currently tuned channel on that key.
• A short press on a number key while the radio is in SAT 1 or SAT 2 mode will tune to the preset satellite channel stored on that button, regardless of the currently selected channel category.
See also:
Keyless drive
Vehicles equipped with the optional Personal Car Communicator have the keyless drive function, see page 63 for detailed information. ...
Occupant safety
Safety is Volvo's cornerstone. Our concern dates back to 1927 when the first Volvo rolled off the production line. Three-point seat belts (a Volvo invention), safety cages, and energyabsorbing ...
Releasing the electric parking brake
Parking brake control Manual release 1. Fasten the seat belt. 2. Insert the remote key in the ignition slot (or press the START/STOP ENGINE button on vehicles with the optional keyless drive) ...