Operation and function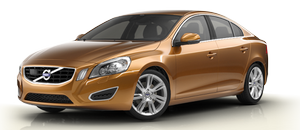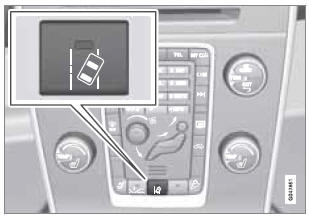 LDW can be switched on or off by pressing the button on the center console. A light in the button illuminates when the function is on.
The trip computer display shows Lane Depart Warn Standby <40 mph (Lane Depart Warn Standby <65 km/h) when the function is in standby mode.
When LDW is in standby mode, the function is activated automatically after the camera has monitored the road's side marker lines and the vehicle's speed exceeds 40 mph (65 km/h).
Lane Depart Warn Available will be displayed. If the vehicle's speed falls below 37 mph (60 km/h), LDW will return to standby mode and Lane Depart Warn Standby <40 mph (65 km/h) will be displayed.
If the camera can no longer monitor the road's side marker lines, Lane Depart Warn Unavailable will be displayed.
If the vehicle unexpectedly crosses the lane's left or right side marker lines, the driver will be alerted by an audible signal.
No warning signal will be given in the following situations:
The turn signal is being used
The driver's foot is on the brake pedal1
The throttle pedal is pressed quickly1
If the steering wheel is moved quickly1
In sharp turns that cause the vehicle's body to sway
See page 177 for information on the camera's limitations.

WARNING
The driver will only be warned once for each time the wheels cross a marker line. No alarm will be given if a marker line is between the wheels.
See also:
SURROUND MODE
Surround sound settings are used to balance sound levels throughout the vehicle. Surround settings for the various sound sources are made separately. There are three settings for surround sound. ...
Automatic locking
When the vehicle starts to move, the doors and tailgate can be locked automatically. This feature can be turned on or off by pressing MY CAR and going to Car settings Lock settings Aut ...
Hoisting the vehicle
If a garage jack is used to lift the vehicle, the two jack attachments points should be used. They are specially reinforced to bear the weight of the vehicle. A garage jack can also be placed u ...