Setting a time interval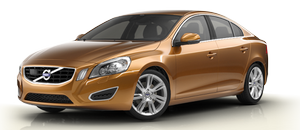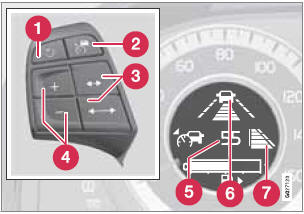 Controls and display
3 - Time interval: Increase/decrease
6 - Time interval: On, while it is being set
7 - Time interval: On, after it has been set
Press

to increase the interval or

to decrease it.

Five different time intervals can be selected and are shown in the display as 1–5 horizontal bars. The greater the number of bars, the longer the time interval. One bar represents approximately 1 second to the vehicle ahead; 5 bars is approximately 2.5 seconds.

The number of bars indicating the selected time interval are shown while the setting is being made and for several seconds afterward. A smaller version of the symbol is then shown to the right in the display. The same symbol is displayed when Adaptive Cruise Control (ACC) is activated.

NOTE
The higher your vehicle's speed, the greater the distance to the vehicle ahead, measured in feet (meters), for a given time interval.
The set time interval is also used by Adaptive Cruise Control, see page 157.

WARNING
Only use a time interval that is suitable in current traffic conditions.
See also:
Modifications
If you are considering modifying your vehicle in any way to accommodate a disability, for example by altering or adapting the driver's or front passenger's seat(s) and/or airbag systems, pleas ...
Overhead courtesy lighting
The passenger compartment lighting is switched on and off automatically when button (3) is in the neutral position. The lighting comes on and remains on for 30 seconds if: • the vehicle is unl ...
Three-way catalytic converter
Three-way catalytic converter - general information • Keep your engine properly tuned. Certain engine malfunctions, particularly involving the electrical, fuel or distributor ignition systems, ma ...