Standby mode (temporary deactivation)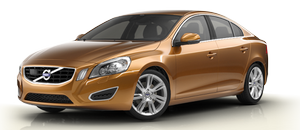 Press

to temporarily deactivate cruise control (put it in standby mode). The set speed, for example 55 mph, is then shown in parentheses. The previously set speed and time interval are resumed by pressing

.

WARNING
There may be a significant increase in speed after the

button has been pressed.
When ACC is in active mode, the vehicle's speed increases by approximately 1 mph (1 km/h) each additional time

is pressed.
See also:
Types of lists used in the manual
Procedures Procedures (step-by-step instructions), or actions that must be carried out in a certain order, are arranged in numbered lists in this manual. If there is a series of illustrations asso ...
Introduction
The symbols in the vehicle's various displays are divided into three main categories: • Warning symbols • Indicator symbols • Information symbols The following tables list the most common symb ...
Driving dynamics: engines
The Volvo S80 is the best handling, most agile, and best-performing big Volvo saloon ever. New versions of Volvo's renowned five-cylinder common-rail diesel engines produce excellent fuel economy ...