Standby mode (temporary deactivation)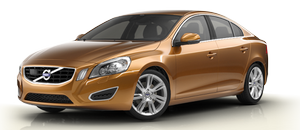 Press

to temporarily deactivate cruise control (put it in standby mode). The set speed, for example 55 mph, is then shown in parentheses. The previously set speed and time interval are resumed by pressing

.

WARNING
There may be a significant increase in speed after the

button has been pressed.
When ACC is in active mode, the vehicle's speed increases by approximately 1 mph (1 km/h) each additional time

is pressed.
See also:
Introduction
Display when the radio is receiving an HD Radio broadcast NOTE HD radio volume may fade in and out at times due to coverage limitations. HD radio is a brand name registered by the Ibiquity d ...
Deposit control gasoline (detergent additives)
Volvo recommends the use of detergent gasoline to control engine deposits. Detergent gasoline is effective in keeping injectors and intake valves clean. Consistent use of deposit control gasol ...
Replacing batteries in the headphones
The headphones use two AAA batteries. It is advisable to have extra batteries on hand during long trips. Battery cover and retaining screw 1. Unscrew the retaining screw and remove the batter ...