Warning light—driver braking required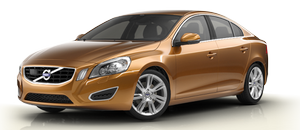 Adaptive Cruise Control can exert brake force that is equivalent to approximately 40% of the vehicle's total braking capacity. In situations requiring more brake force than ACC can provide and if the driver does not apply the brakes, an audible signal from the Collision Warning system will sound and warning light will illuminate (see page 174) in the windshield to alert the driver to react.

NOTE
Strong sunlight, reflections, extreme light contrasts, the use of sunglasses, or if the driver is not looking straight ahead may make the visual warning signal in the windshield difficult to see.

WARNING
Adaptive Cruise Control only warns of vehicles detected by the radar sensor, see page 160. In some cases there may be no warning or the warning may be delayed. The driver should always apply the brakes when necessary.
See also:
Limitations
In certain situations, the BLIS indicator light(s) may illuminate even when there are no other vehicles in the area monitored by the system. NOTE If the BLIS indicator lights illuminate occas ...
Blower control
Turn the control clockwise to increase or counterclockwise to decrease the blower speed. If AUTO is selected, blower speed will be regulated automatically and this will override manual adjustment. ...
Replacing fuses
There are relay/fuse boxes located in the engine compartment, the passenger compartment, and the trunk. If an electrical component fails to function, this may be due to a blown fuse. The easiest ...