Paths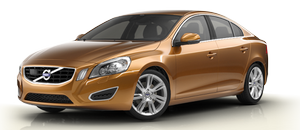 The current menu level is displayed at the upper right of the center console display. Menu paths are displayed as follows, for example:

The following is an example of how to set a function in the menu system:
1. Press the MY CAR button on the center console control panel.
2. Navigate to a menu, for example Settings using the thumb wheel (1) and press it to open a submenu.
3. Navigate to the desired submenu such as Car settings.
4. Navigate to Lock settings and press the thumb wheel to open a new submenu.
5. Navigate to Doors unlock and press the thumb wheel to open a submenu with alternatives that can be selected.
6. Use the thumb wheel to move to the desired choice and press the thumb wheel to put an X in the box.
7. Finish by exiting the menu system either one step at a time with short presses on EXIT (2) or press and hold this button to return to the main menu.
The OK/MENU (2), EXIT (4) and control (3) in the center console can be used in the same way.
See also:
Introduction
Collision Warning with Full Auto-brake and Pedestrian Detection is designed to assist the driver if there is a risk of a collision with a pedestrian, a vehicle ahead that is at a standstill or ...
Three-way catalytic converter
• Keep your engine properly tuned. Certain engine malfunctions, particularly involving the electrical, fuel or distributor ignition systems, may cause unusually high threeway catalytic convert ...
Operation
Chassis settings Use the buttons in the center console to change setting. The setting in use when the engine is switched off is activated the next time the engine is started. ...