Paths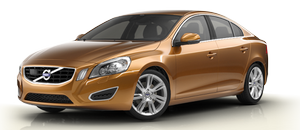 The current menu level is displayed at the upper right of the center console display. Menu paths are displayed as follows, for example:

The following is an example of how to set a function in the menu system:
1. Press the MY CAR button on the center console control panel.
2. Navigate to a menu, for example Settings using the thumb wheel (1) and press it to open a submenu.
3. Navigate to the desired submenu such as Car settings.
4. Navigate to Lock settings and press the thumb wheel to open a new submenu.
5. Navigate to Doors unlock and press the thumb wheel to open a submenu with alternatives that can be selected.
6. Use the thumb wheel to move to the desired choice and press the thumb wheel to put an X in the box.
7. Finish by exiting the menu system either one step at a time with short presses on EXIT (2) or press and hold this button to return to the main menu.
The OK/MENU (2), EXIT (4) and control (3) in the center console can be used in the same way.
See also:
Exterior
For 2008, the nose and tail are modified, and though Volvo says it has changed the headlights and taillights, it seems limited to the elements within, such as taillamp LEDs and lens colors, and no ...
Introduction
Two remote keys or optional Personal Car Communicators (PCC) are provided with your vehicle. They enable you to unlock the doors and trunk, and also function as ignition keys to start the vehicle ...
Indicator and warning symbols
Low oil pressure If the light comes on while driving, stop the vehicle, stop the engine immediately, and check the engine oil level. If the oil level is normal and the light stays on after rest ...