Driving distance on current fuel reserve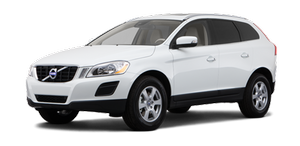 This function shows the approximate distance that can be driven on the fuel remaining in the tank. The calculation is based on average fuel consumption during the last 20 miles (30 km) of driving and the amount of fuel remaining in the tank when the reading was taken. When the message ---- miles to empty tank appears in the display, refuel as soon as possible.
NOTE
The actual distance that can be driven on the usable fuel remaining in the tank may be influenced by a change in driving style.
See also page 262 for information on driving economically.
Resetting
1. Select --- mph average speed or --.- mpg average.
2. Press and hold RESET for approx. 1 second to reset the selected function. If RESET is kept depressed for at 3 three seconds, Average speed and Average fuel consumption are reset simultaneously.
See also:
Switching off the rear screens
Both of rear screens can be switched off from the front center control panel. This function can be activated under RSE settings Display off as explained in points 2-4 in the section " ...
Tire sealing system–overview
1 Speed limit sticker 2 On/Off switch 3 Electrical wire 4 Bottle holder (orange cover) 5 Protective hose cover 6 Air release knob 7 Hose 8 Bottle with sealing compound 9 Air pressure gauge ...
Tire Pressure Monitoring System (TPMS)
Introduction NOTE USA – FCC ID: KR5S122780002 This device complies with part 15 of the FCC rules. Operation is subject to the following conditions: (1) This device may not cause harmful inter ...