Water on brake discs and brake pads affects braking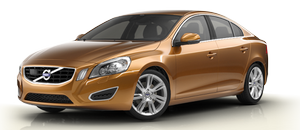 Driving in rain and slush or passing through an automatic car wash can cause water to collect on the brake discs and pads. This will cause a delay in braking effect when the pedal is depressed. To avoid such a delay when the brakes are needed, depress the pedal occasionally when driving through rain, slush, etc. This will remove the water from the brakes. Check that brake application feels normal. This should also be done after washing or starting in very damp or cold weather.
See also:
Cleaning the upholstery
Fabric Clean with soapy water or a detergent. For more difficult spots caused by oil, ice cream, shoe polish, grease, etc., use a clothing/fabric stain remover. Consult your Volvo retailer. Inter ...
Points to keep in mind
• Do not export your Volvo to another country before investigating that country's applicable safety and exhaust emission requirements. In some cases it may be difficult or impossible to comply wit ...
Vehicle Overview
Volvo's smallest sedan, the compact S40, comes in 2.4i and T5 trim levels, the latter offered in all- as well as front-wheel drive. A few years past a full redesign, the S40 and its V50 wagon sist ...