Keyless locking and unlocking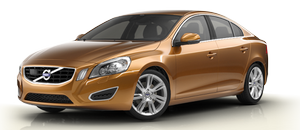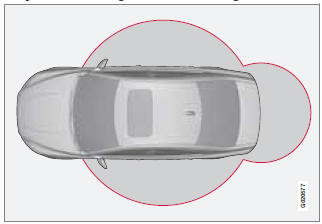 Range of the keyless drive remote key–5 ft (1.5 meters)
This system makes it possible to unlock and lock the vehicle without having to press any buttons on the Personal Car Communicators (PCC). It is only necessary to have a keyless drive remote key in your possession to operate the central locking system.

NOTE
The gear selector must in the P position before the vehicle can be locked and the alarm can be armed.
The buttons on the keyless drive remote key can also be used to lock and unlock the vehicle, see page 57 for more information.
Both of the PCCs provided with the vehicle have the keyless function, and additional ones can be ordered. The system can accommodate up to six PCCs.
The red rings in the illustration indicate the area around the vehicle that is within range of the keyless drive antennas.
See also:
Situations where ACC may not function optimally
WARNING The radar sensor has a limited field of vision. In some situations it may detect a vehicle later than expected or not detect other vehicles at all. If ACC is not functioning prop ...
CHECK ENGINE Malfunction indicatorlight
On-Board Diagnostics II (OBDII): As you drive, a computer called "OBDII" monitors your vehicle's engine, transmission, electrical and emission systems. The CHECK ENGINE light will light ...
Weight distribution affects handling
At the specified curb weight your vehicle has a tendency to understeer, which means that the steering wheel has to be turned more than might seem appropriate for the curvature of a bend. This ensu ...