Replacing the battery in the remote key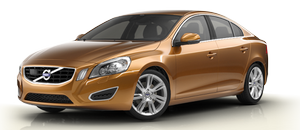 The batteries should be replaced if:
The information symbol illuminates and Low battery in remote control. Please change batteries. is shown in the display and/or
if the locks do not react after several attempts to unlock or lock the vehicle.

NOTE
The remote key's range is normally approximately 60 ft (20 m) from the vehicle. See page 60 for information on replacing the battery.
See also:
Volvo's concern for safety
Safety is the Volvo cornerstone. Our concern dates back to 1927 when the first Volvo rolled off the production line. Three-point seat belts (a Volvo invention), safety cages, and energyabsorbing i ...
Indicator and warning symbols
Low oil pressure If the light comes on while driving, stop the vehicle, stop the engine immediately, and check the engine oil level. If the oil level is normal and the light stays on after ...
Fuel requirements
Octane rating Minimum octane Typical pump octane label Volvo recommends premium for best performance, but using 87 octane1 or above will not affect engine reliability. Volvo engines are desi ...