Components in the SIPS airbag system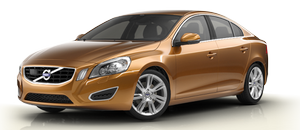 This SIPS airbag system consists of a gas generator, the side airbag modules built into the outboard sides of both front seat backrests, and electronic sensors/wiring.

WARNING
The SIPS airbag system is a supplement to the structural Side Impact Protection System and the three-point seat belt system. It is not designed to deploy during collisions from the front or rear of the vehicle or in rollover situations.
The use of seat covers on the front seats may impede SIPS airbag deployment.
No objects, accessory equipment or stickers may be placed on, attached to or installed near the SIPS airbag system or in the area affected by SIPS airbag deployment.
Never try to open or repair any components of the SIPS airbag system. This should be done only by a trained and qualified Volvo service technician.
In order for the SIPS airbag to provide its best protection, both front seat occupants should sit in an upright position with the seat belt properly fastened.
Failure to follow these instructions can result in injury to the occupants of the vehicle in the event of an accident.
See also:
Seat belt use during pregnancy
Seat belt use during pregnancy The seat belt should always be worn during pregnancy. But it is crucial that it be worn in the correct way. The diagonal section should wrap over the shoulder t ...
Equalizer
Sound levels for different frequencies can be adjusted separately using this feature. To do so: 1. Press OK/MENU to access Audio settings and select Equalizer. 2. Turn TUNE to select one of the ...
Locks
The alarm indicator light on the dashboard will stop flashing to indicate that the alarm is not monitoring the entire vehicle. The accessory movement and inclination sensors will be automatically ...