Components in the SIPS airbag system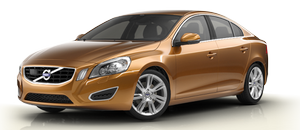 This SIPS airbag system consists of a gas generator, the side airbag modules built into the outboard sides of both front seat backrests, and electronic sensors/wiring.

WARNING
The SIPS airbag system is a supplement to the structural Side Impact Protection System and the three-point seat belt system. It is not designed to deploy during collisions from the front or rear of the vehicle or in rollover situations.
The use of seat covers on the front seats may impede SIPS airbag deployment.
No objects, accessory equipment or stickers may be placed on, attached to or installed near the SIPS airbag system or in the area affected by SIPS airbag deployment.
Never try to open or repair any components of the SIPS airbag system. This should be done only by a trained and qualified Volvo service technician.
In order for the SIPS airbag to provide its best protection, both front seat occupants should sit in an upright position with the seat belt properly fastened.
Failure to follow these instructions can result in injury to the occupants of the vehicle in the event of an accident.
See also:
The alarm system
The alarm is automatically armed whenever the vehicle is locked with the remote key or optional Personal Car Communicator. When armed, the alarm continuously monitors a number of points on the vehi ...
Auto
The function automatically regulates cooling, heating, blower speed, recirculation, and air distribution to maintain the chosen temperature. If you select one or more manual functions, the other ...
2012 Volvo S60 Review
Before test-driving the 2012 Volvo S60, I considered Volvos to be functional cars that included cutting-edge safety features. Put another way, I thought Volvos were dutifully practical family cars ...