Releasing the electric parking brake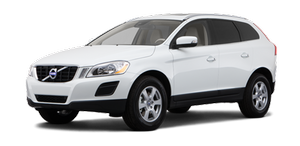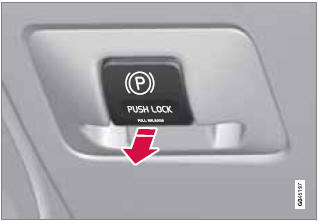 Parking brake control
Manual release
1. Fasten the seat belt.
2. Insert the remote key in the ignition slot (or press the START/STOP ENGINE button on vehicles with the optional keyless drive).
3. Press firmly on the brake pedal.
4. Pull the parking brake control.
Automatic release
1. Start the engine.
NOTE
• For safety reasons, the parking brake is only released automatically if the engine is running and the driver is wearing a seat belt.
• The electric parking brake will be released immediately when the accelerator pedal is pressed and the gear selector is in position D or R.
2. Fasten the seat belt.
3. Move the gear selector to position D or R and press the accelerator pedal. The parking brake will release when the vehicle begins to move.
Heavy load uphill
A heavy load, such as a trailer, can cause the vehicle to roll backward when the parking brake is released automatically on a steep incline. To help avoid this:
1. Keep the electric parking brake lever pushed in with the left hand while shifting into Drive with the right.
2. While pressing the throttle pedal to pull away, release the parking brake lever only after the vehicle begins to move.
See also:
Phone book
In order to use the hands-free system's phone book (list of contacts), PHONE must be displayed at the top of the center console display and the symbol must be visible. The audio system stores a c ...
Volvo and the environment
Volvo is committed to the well being of its customers. As a natural part of this commitment, we care about the environment in which we all live. Caring for the environment means an everyday involv ...
Oil specifications
Engine oil must meet the minimum ILSAC specification GF-4, API SL, or ACEA A1/B1. Lower quality oils may not offer the same fuel economy, engine performance, or engine protection. Depending on ...