Installing the cover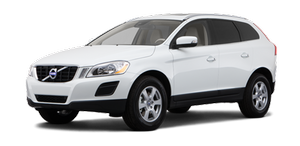 1. Press the end piece on one side of the cargo area cover into the retaining bracket in the side panel of the cargo area 1.
2. Do the same on the opposite side 2.
3. Press both sides of the cover until they click into place 3. The red mark will no longer be visible.
4. Check that both ends of the cover are securely locked in place.
See also:
Advanced Stability Control
The Dynamic Stability and Traction Control (DSTC) in the all-new Volvo S60 has a number of sophisticated features to improve driving pleasure and safety. The Volvo S60 is the first saloon on the m ...
Installation
1. Lower the battery into the battery box. 2. Move the battery inward and to the side until it reaches the rear edge of the box. 3. Tighten the clamp that secures the battery. 4. Connect the ve ...
Environment
Volvo cares passionately about environmental protection, whether it's in reducing pollutants from its vehicles, or cutting pollutants entering the car. The well-being of people is at the core of e ...