Watching a video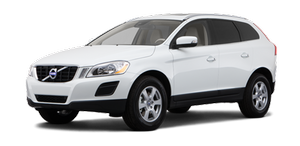 Video tracks/files can be viewed via the vehicle's media player or the USB socket.
For more information about the media player, see page 225 or page 227 for information about the USB socket.
1. Switch on the cordless headphones, select CH.A for the left screen or CH.B for the right screen.
2. Use the remote control's

button to select a screen (L: left rear screen, F: front screen, or R: right rear screen). Point the remote control toward a screen's IR transceiver and press

one or more times to select the desired source (Disc or USB), release the button and wait several seconds for your selection to be accepted.
3. Insert a DVD in the infotainment system's media player, or connect an external device to the vehicle's USB socket.
Playback and navigation
Play a video track/video file by pressing

on the remote control and change tracks/video files by pressing

. Stop playback by pressing

. See page 224 for more information about playback and navigation on video DVDs and page 225 for information about playing video files.
Fast forward/reverse Press and hold the

buttons to fast forward/reverse. Fast forward/reverse can be done at several speeds for video files by briefly pressing these buttons to increase the speed.
Fast forward/reverse is done at one speed for audio files. Stop fast forward/reverse by pressing

, or

the

buttons.
See also:
Points to keep in mind
Х Do not export your Volvo to another country before investigating that country's applicable safety and exhaust emission requirements. In some cases it may be difficult or impossible to comply wit ...
Increasing or decreasing speed
Use + or Ц in the following ways to increase or decrease the vehicle's speed: 1. Press and hold down + or Ц until the vehicle reaches the desired speed. 2. Press + or Ц for approximately a hal ...
Getting started
Voice control button on the steering wheel ...