Introduction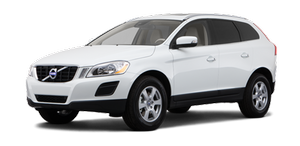 The RSE system provides entertainment for the rear seat passengers by making it possible to e.g., watch a film, play music, listen to the radio or connect an external device such as a game console.
RSE is fully integrated into the vehicle's infotainment system and can be used at the same time as other infotainment features.
For example, if a rear seat passenger is using A/V-AUX and headphones, the driver and front seat passenger can still use the vehicle's radio or media player. However, only one disc can be played in the media player at a time. You can listen to music from e.g., an iPod® or from streaming audio files using the Bluetooth® function.
The RSE system can be controlled from the front screen (parental control).
Different media can be played or viewed from different sources on the various screens (front center console and/or the respective screens in the rear seat). It is also possible to play or view media from the same source on one or more of the screens. However, it is not possible to play a film from USB while a CD or DVD is being played.
CAUTION When transporting large objects in the rear seat, be sure that there is adequate space between the object(s) and the RSE screens to help avoid scratching or damaging these screens.
If necessary, cover the screens with a suitable material.
NOTE
• The RSE screens and remote control may not function in very low or very high cabin temperatures. They will become operable again after the climate control system has created a comfortable temperature in the cabin.
• Keep the IR transceivers' lenses clean by wiping them regularly with a damp cloth. A dirty lens could affect the function of the remote control.
See also:
Infant seats
Securing an infant seat with a seat belt Do not place the infant seat in the front passenger's seat NOTE Refer to page 47–48 for information on securing a child restraint using ISOFIX/LATCH low ...
RSE-AUX connectors and 12-voltsocket
The three color-coded (yellow-white-red) RSEAUX connectors can be used to connect an auxiliary device to the RSE system. Always follow the connection instructions provided with the auxiliary devic ...
Home safe lighting
When you leave your vehicle at night, you can make use of the home safe lighting function to illuminate the area in front of the vehicle. 1. Remove the key from the ignition slot. 2. Pull the tu ...