Introduction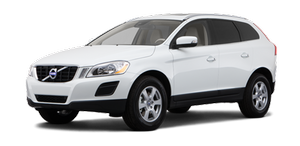 The RSE system provides entertainment for the rear seat passengers by making it possible to e.g., watch a film, play music, listen to the radio or connect an external device such as a game console.
RSE is fully integrated into the vehicle's infotainment system and can be used at the same time as other infotainment features.
For example, if a rear seat passenger is using A/V-AUX and headphones, the driver and front seat passenger can still use the vehicle's radio or media player. However, only one disc can be played in the media player at a time. You can listen to music from e.g., an iPodЃ or from streaming audio files using the BluetoothЃ function.
The RSE system can be controlled from the front screen (parental control).
Different media can be played or viewed from different sources on the various screens (front center console and/or the respective screens in the rear seat). It is also possible to play or view media from the same source on one or more of the screens. However, it is not possible to play a film from USB while a CD or DVD is being played.
CAUTION When transporting large objects in the rear seat, be sure that there is adequate space between the object(s) and the RSE screens to help avoid scratching or damaging these screens.
If necessary, cover the screens with a suitable material.
NOTE
Х The RSE screens and remote control may not function in very low or very high cabin temperatures. They will become operable again after the climate control system has created a comfortable temperature in the cabin.
Х Keep the IR transceivers' lenses clean by wiping them regularly with a damp cloth. A dirty lens could affect the function of the remote control.
See also:
Introduction
Distance Alert is part of Adaptive Cruise Control and is a function that provides information about the time interval to the vehicle ahead. Distance Alert is active at speeds above approximately 18 ...
Audio system overview
1 CD player 2 VOLUME Ц turn to adjust 3 POWER Ц On/Off 4 AM/FM Ц for switching between FM1, FM2 and AM 5 Display 6 ENTER Ц select in the menu or activate a selection 7 Not in use 8 MY KEY Ц p ...
Recirculation/air quality system
Recirculation This function can be used to shut out exhaust fumes, smoke, etc., from the passenger compartment. The air in the passenger compartment is then recirculated, i.e., no air f ...