Design concept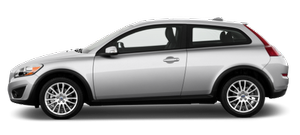 Volvo's design language, created under the design directorship of Peter Horbury, reached its zenith in the Volvo C30 when it was launched in 2006. 'We were a bit more playful, less formal and more adventurous when we first designed the C30,' says chief designer Simon Lamarre. 'The track is unusually wide, the wheelbase is long, the window-line angles are nose-down, and the shape is wedged. The shoulders are also broader than on other Volvos and rise towards the rear. On other Volvos, the shoulders are even and level. On the C30, there's a lot more movement and angle change.'
Two-door style was chosen. 'Two doors look sportier and our target market made it clear they preferred coupe style,' says Mr Abrahamsson. 'Besides, they will rarely use the back seat. So why compromise on style? Volvo has many four-door cars, for those who prefer the added practicality of rear doors.'
The rear end was the biggest departure from the Volvo styling norm - except for those with long memories who remember back to the classic 1800ES sports estate, launched in 1971. That vehicle's distinguishing characteristic was the deep glass tailgate. That styling cue was borrowed on the SCC concept car, shown at the 2001 Detroit Show, and in turn was borrowed for the C30 Design Concept shown at the Detroit Show in January 2006.
Capitalising on the success of the outgoing Volvo C30, the new model, launched in late 2009, has been given major body panel changes to give a dynamic new style, whilst maintaining many of the popular features the C30 has become known for.
The front of the car has been refreshed to make it look more dynamic and expressive. The angled lines of the front bumper together with the new headlights, themselves angled upwards and towards the flanks of the car, reinforce the impression of speed and sportiness.
The nose of the car is most recognisably Volvo. In the grille sits the new, larger iron mark, as seen in the bigger models in the Volvo range. The air intake has also been enlarged and now resembles the intake in the XC60 crossover. The grille also has a new honeycomb pattern unique to the Volvo C30.
Other exterior features include the introduction of a brand new vibrant Orange Flame Metallic colour and the Lime Grass Green Metallic, borrowed from the XC60 colour collection. A new 17" white alloy has also been introduced to the range called Styx White - this wheel is available as standard on the SE trim level.
Although the biggest changes have taken place at the front, the rear also sports the same deep new styling lines and detailing. The contours are crisp and more dynamic, while the black lower trim has been reduced enabling the body colour to be extended lower and thus forging a closer visual contact between the car and the road. The Volvo C30 ES comes with a small black plastic lower body panel, but when you choose SE or SE Lux, the lower trim is available in black sapphire or, to add a dramatic twist, in a contrasting colour. Customers can choose a colour from the new C30 Contrast Colour Collection, such as Blackcurrant, Java or Shadow Blue. For example a customer could choose the new Lime Grass Green metallic as the main body colour and specify the lower body panels in Java. T5 variants also get twin tail-pipes in polished stainless steel to highlight the powerful engine beneath the skin.
See also:
Dimensions
Dimensions ...
Continued
This symbol can be found at the lower right corner of an odd-numbered (right-hand) page to indicate that the current topic is continued on the following page. ...
Interior Air Quality System (IAQS)
A multifilter helps reduce gases and particles in the incoming air, thereby reducing the levels of odors and contaminants entering the vehicle. The air quality sensor detects increased levels o ...