Paths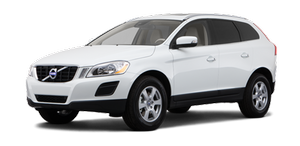 The current menu level is displayed at the upper right of the center console display. Menu paths are displayed as follows, for example:
Settings

Car settings

Lock settings

Doors unlock

Driver door, then all
The following is an example of how to set a function in the menu system:
1. Press the MY CAR button on the center console control panel.
2. Navigate to a menu, for example Settings using the thumb wheel (1) and press it to open a submenu.
3. Navigate to the desired submenu such as Car settings.
4. Navigate to Lock settings and press the thumb wheel to open a new submenu.
5. Navigate to Doors unlock and press the thumb wheel to open a submenu with alternatives that can be selected.
6. Use the thumb wheel to move to the desired choice and press the thumb wheel to put an X in the box.
7. Finish by exiting the menu system either one step at a time with short presses on EXIT (2) or press and hold this button to return to the main menu.
The OK/MENU (2), EXIT (4) and control (3) in the center console can be used in the same way.
See also:
Hoisting the vehicle
If a garage jack is used to lift the vehicle, the two jack attachments points should be used. They are specially reinforced to bear the weight of the vehicle (see the illustration). A garage j ...
S80 in the Market
The market for a large luxury sedan from Volvo has always been hampered by the fact that the people car buyers want to protect most are their family, and families often opt for wagons and SUVs. Th ...
Standby mode due to action by the driver
ACC is temporarily deactivated and put in standby mode: when the brakes are applied if the driver's seat belt is taken off If the driver's door is opened if the gear selector is move ...