Calibration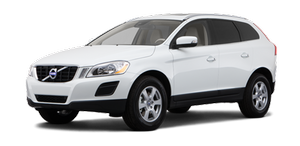 The compass may need to be calibrated if, for example, the vehicle is driven into a new magnetic zone. The character C is shown in the mirror's display if calibration is necessary.
1. Stop the vehicle in a large open area, safely out of traffic and away from steel structures and high-tension electrical wires.
2. Start the vehicle.
NOTE
For best results from calibration, switch off all electrical equipment in the vehicle (climate system, windshield wipers, audio system, etc.) and make sure that all doors are closed.
3. Using a pen or similar object, press and hold the button on the underside of mirror until C is shown again in the mirror(after approx. 6 seconds).
4. Drive as usual. C disappears from the display when calibration is complete.
Alternative calibration method:
Drive slowly in a circle at a speed of no more than 5 mph (8 km/h) until C disappears from the display when calibration is complete.
See also:
Technician certification
In addition to Volvo factory training, Volvo supports certification by the National Institute for Automotive Service Excellence (A.S.E.). Certified technicians have demonstrated a high degree of c ...
Vanity mirror lighting
Removing the mirror glass 1. Insert a screwdriver underneath the lower edge, in the center, turn and carefully pry up the lug on the edge. 2. Carefully detach and lift out the entire mirror glas ...
Power steering fluid reservoir
The fluid level should always be between the ADD and FULL marks. Fluid type: Volvo synthetic power steering fluid (Pentosin CHF 11S) P/N 1161529 or equivalent. Replace: No fluid change requi ...