Calibration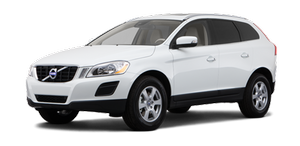 The compass may need to be calibrated if, for example, the vehicle is driven into a new magnetic zone. The character C is shown in the mirror's display if calibration is necessary.
1. Stop the vehicle in a large open area, safely out of traffic and away from steel structures and high-tension electrical wires.
2. Start the vehicle.
NOTE
For best results from calibration, switch off all electrical equipment in the vehicle (climate system, windshield wipers, audio system, etc.) and make sure that all doors are closed.
3. Using a pen or similar object, press and hold the button on the underside of mirror until C is shown again in the mirror(after approx. 6 seconds).
4. Drive as usual. C disappears from the display when calibration is complete.
Alternative calibration method:
Drive slowly in a circle at a speed of no more than 5 mph (8 km/h) until C disappears from the display when calibration is complete.
See also:
Ignition switch and steering wheel lock
A The gear selector must be in the P (Park) position (automatic transmission). B Please be aware that leaving the key in this position will increase battery drain. ...
Audio/video playback through the A/VAUX socket
1. Switch on one of the rear screens by pressing its On/Off button. 2. Use the remote control's button to select a screen (L: left rear screen, F: front screen, or R: right rear screen). Poi ...
Operating the system
1 - Short press: switch the system ON. Press and hold: switch the system OFF. 2 - Infotainment system mode buttons (RADIO, MEDIA, or TEL). Press a button to access the desired mode and press the ...