Exterior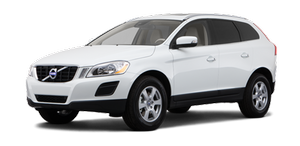 Volvo XC60 has a characteristic XC design language, with a blend of passenger- and coupe-like car shapes - including a touch of well-known Volvo design elements. The formula-drive stance, with big wheels "in the corners", lifted visual platform and a very high waistline - all contribute to a sturdy and robust impression. The V-shape design, i.e. front spoiler, LED lamps, bonnet, goes all the way to the rear.
The rear design is characterised by the tail lamps with micro optics and LED technique. The lamps, distributing light in a special way, give a characteristic "Volvo" design impression.
See also:
Storing a channel
A total of 20 satellite channels can be stored; 10 channels each for Sirius 1 and 2, see page 214 for detailed information on storing channels. A long press on one of the number keys stores the ...
W – Winter/Wet driving mode –enhanced vehicle traction
Press the W button at the base of the gear selector to engage/disengage this driving mode (see illustration). The W symbol will appear in the display (see page 58) when the function is activated ...
Re-installing the wheel
1. Clean the contact surfaces on the wheel and hub. 2. Lift the wheel and place it on the hub. Tighten the lug nuts 3. Install the wheel nuts and tighten handtight. Using the lug wrench, tight ...