Keyless locking and unlocking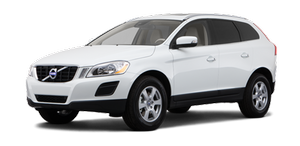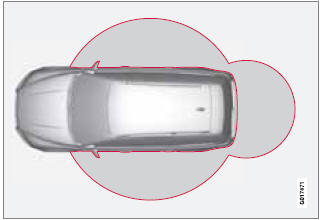 Range of the keyless drive remote key–5 ft (1.5 meters)
This system makes it possible to unlock and lock the vehicle without having to press any buttons on the Personal Car Communicators (PCC). It is only necessary to have a keyless drive remote key in your possession to operate the central locking system.
NOTE
• The gear selector must in the P position before the vehicle can be locked and the alarm can be armed.
• The buttons on the keyless drive remote key can also be used to lock and unlock the vehicle, see page 58 for more information.
Both of the PCCs provided with the vehicle have the keyless function, and additional ones can be ordered. The system can accommodate up to six PCCs.
The red rings in the illustration indicate the area around the vehicle that is within range of the keyless drive antennas.
See also:
Overview
The new Volvo XC60 is the first vehicle in a new generation of the contemporary cross-over concept. It is a combination of a traditional city vehicle and an XC vehicle aimed for young, professiona ...
Sound stage
The sound experience can be optimized for the driver's seat, both front seats or the rear seat. If the front and rear seats are occupied, the sound stage setting Front seats is recommended. Se ...
Volvo's concern for safety
Safety is Volvo's cornerstone. Our concern dates back to 1927 when the first Volvo rolled off the production line. Three-point seat belts (a Volvo invention), safety cages, and energyabsorbing ...