Range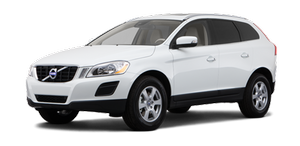 The PCC's lock and unlock functions have a range of approximately 60 ft. (20 m) from the vehicle.
NOTE
• The approach lighting, panic alarm, and the functions controlled by the information button have a range of approximately 300 ft (100 m) from the vehicle.
• Radio waves, buildings or other obstacles may interfere with the function of the PCC.
If the vehicle does not provide confirmation when a button has been pressed, try moving closer and pressing the button again.
Outside of the PCC´s range
If the PCC is more than approximately 300 ft (100 m) from the vehicle when the information button is pressed, no new information will be received. The PCC most recently used to lock or unlock the vehicle will show the vehicle's most recently received status. The indicator lights will not flash when the information button is pressed while the PCC is out of range.
If more than one PCC is used to lock/unlock the vehicle, only the one used most recently will show the correct locking status.
NOTE
If none of the indicator lights illuminate when the information button is pressed, this may be because the most recent transmission between the vehicle and the PCC was interrupted or impeded by buildings or other objects.
See also:
Volvo's recommendations
Why does Volvo believe that no child should sit in the front seat of a car? It's quite simple really. A front airbag is a very powerful device designed, by law, to help protect an adult. Becau ...
Equalizer
Sound levels for different frequencies can be adjusted separately using this feature. To do so: 1. Press OK/MENU to access Audio settings and select Equalizer. 2. Turn TUNE to select one of the ...
Introduction
Display when the radio is receiving an HD Radio broadcast NOTE HD radio volume may fade in and out at times due to coverage limitations. HD radio is a brand name registered by the Ibiquity di ...