Accessory installation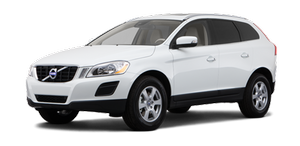 Х We strongly recommend that Volvo owners install only genuine, Volvo-approved accessories, and that accessory installations be performed only by a trained and qualified Volvo service technician.
Х Genuine Volvo accessories are tested to ensure compatibility with the performance, safety, and emission systems in your vehicle.
Additionally, a trained and qualified Volvo service technician knows where accessories may and may not be safely installed in your Volvo. In all cases, please consult a trained and qualified Volvo service technician before installing any accessory in or on your vehicle.
Х Accessories that have not been approved by Volvo may or may not be specifically tested for compatibility with your vehicle.
Additionally, an inexperienced installer may not be familiar with some of your car's systems.
Х Any of your car's performance and safety systems could be adversely affected if you install accessories that Volvo has not tested, or if you allow accessories to be installed by someone unfamiliar with your vehicle.
Х Damage caused by unapproved or improperly installed accessories may not be covered by your new vehicle warranty.
See your Warranty and Service Records Information booklet for more warranty information. Volvo assumes no responsibility for death, injury, or expenses that may result from the installation of non-genuine accessories.
See also:
Fuse box in the passenger compartment, behind the plastic cover, driver's side
This fuse box is located behind the plastic cover below the steering wheel. When replacing a blown fuse, be sure to replace it with a new one of the same color and amperage (written on the fuse) ...
Interior
There's nothing like driving with the top down and the wind in your hair. It's magical. However, it comes at a price. Traveling light in this car is key because there isn't a lot of storage bins o ...
Introduction
The laminated panoramic roof is divided into two sections. Х The rear glass section is fixed in place and cannot be moved. Х The front glass section can be slid horizontally to the open or clo ...