Introduction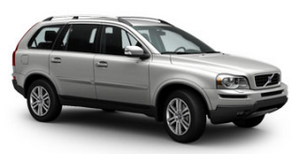 The symbols in the vehicle's various displays are divided into three main categories:
Х Warning symbols
Х Indicator symbols
Х Information symbols
The following tables list the most common symbols, their meaning and the pages in this manual that provide more detailed information.
Warning/information symbol
This symbol (

) lights up and glows red if the condition is related to safety and/or drivability or yellow to alert the driver to e.g., fill the washer fluid reservoir, etc. In either case, a message will be displayed in the instrument panel display.
See also:
Installing the steel cargo grid
For information about the necessary tools and procedures for installing/removing the steel cargo grid, please refer to the assembly instructions that were included when the grid was purchased. ...
Driver distraction
A driver has a responsibility to do everything possible to ensure his or her own safety and the safety of passengers in the vehicle and others sharing the roadway. Avoiding distractions is part of ...
Vehicle Overview
Volvo's small wagon, the V50, comes in 2.4i and T5 trim levels, the latter offered in all- as well as front-wheel drive. A few years past a full redesign, the V50 and its S40 sedan sister have bee ...