Changing coolant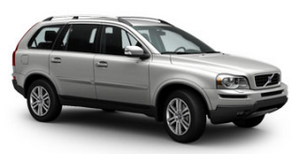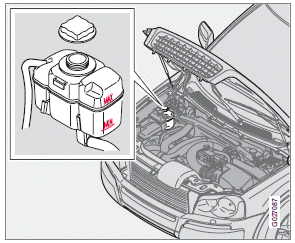 Coolant reservoir
Normally, the coolant does not need to be changed. If the system must be drained, consult a trained and qualified Volvo service technician.
CAUTION
Х If necessary, top up the cooling system with Volvo Genuine Coolant/Antifreeze only (a 50/50 mix of water and antifreeze).
Х Different types of antifreeze/coolant may not be mixed.
Х If the cooling system is drained, it should be flushed with clean water or premixed anti-freeze before it is refilled with the correct mixture of water/antifreeze.
Х The cooling system must always be kept filled to the correct level, and the level must be between the MIN and MAX marks. If it is not kept filled, there can be high local temperatures in the engine which could result in damage.
Check coolant regularly!
Х Do not top up with water only. This reduces the rust-protective and antifreeze qualities of the coolant and has a lower boiling point. It can also cause damage to the cooling system if it should freeze.
Х Do not use chlorinated tap water in the vehicle's cooling system.
WARNING
Х Never remove the expansion tank cap while the engine is warm. Wait until the vehicle cools.
Х If it is necessary to top up the coolant when the engine is warm, unscrew the expansion tank cap slowly so that the overpressure dissipates.
See also:
Call volume
Call volume can be only be adjusted during a call. Use the buttons in the steering wheel keypad or the infotainment systemТs VOL control. ...
SIRIUS ID
The SIRIUS ID (sometimes referred to as the Electronic Serial Number or ESN) is required when contacting the Sirius Call Center. It is used to activate your account and when making any account ...
Activating the system
Before any phone voice commands can be used, a Bluetooth-enabled cell phone must be paired with the infotainment system. If a phone command is given, the system will inform you If there is no cell ...