Changing coolant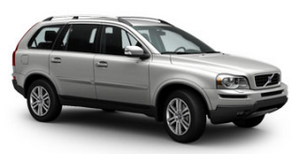 Normally, the coolant does not need to be changed. If the system must be drained, consult a trained and qualified Volvo service technician.
Do not top off with water only. This reduces the rust-protective and antifreeze qualities of the coolant and has a lower boiling point. It can also cause damage to the cooling system if it should freeze. Top off with Volvo Genuine Coolant/Antifreeze only (a 50/50 mix of water and antifreeze.
CAUTION
The cooling system must always be kept filled to the correct level. If it is not kept filled, there can be high local temperatures in the engine which could result in damage. Different types of antifreeze/coolant may not be mixed.
WARNING
• Never remove the expansion tank cap while the engine is warm. Wait until the engine cools.
• If it is necessary to top off the coolant when the engine is warm, unscrew the expansion tank cap slowly so that the overpressure dissipates.
See also:
Main USB menu
USB menu Play/Pause Stop Random Repeat folder Select USB device Change subtitles Change audio track Scan Audio settings ...
Exterior
Chief Designer Peter Horbury calls the XC90's appearance "masculine, but not macho; muscular, but not aggressive." At 188.9 inches long overall, the XC90 is 3.4 inches longer than Volvo's V70 wago ...
Interior
There's nothing like driving with the top down and the wind in your hair. It's magical. However, it comes at a price. Traveling light in this car is key because there isn't a lot of storage bins o ...