Snow chains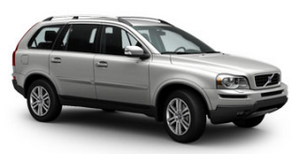 Snow chains can be used on your Volvo with the following restrictions:
Х Snow chains should be installed on front wheels only. Use only Volvo approved snow chains.
Х If accessory, aftermarket or "custom" tires and wheels are installed and are of a size different than the original tires and wheels, chains in some cases CANNOT be used.
Sufficient clearances between chains and brakes, suspension and body components must be maintained.
Х Some strap-on type chains will interfere with brake components and therefore CANNOT be used.
Х All Wheel Drive models: Snow chains should only be installed on the front wheels.
Х Certain size tires may not allow the assembly of snow chains/traction devices.
Consult your Volvo retailer for additional snow chain information.
CAUTION
Х Check local regulations regarding the use of snow chains before installing.
Х Always follow the chain manufacturer's installation instructions carefully. Install chains as tightly as possible and retighten periodically.
Х Never exceed the chain manufacturer's specified maximum speed limit. (Under no circumstances should you exceed 31 mph (50 km/h)).
Х Avoid bumps, holes or sharp turns when driving with snow chains.
Х The handling of the vehicle can be adversely affected when driving with chains. Avoid fast or sharp turns as well as locked wheel braking.
See also:
Use of Additives
With the exception of gas line antifreeze during winter months, do not add solvents, thickeners, or other store-bought additives to your vehicle's fuel, cooling, or lubricating systems. Overus ...
Compliance
FCC/IC common sentence This device complies with Part 15 of FCC Rules and RSS-Gen of IC Rules. Operation is subject to the following two conditions: (1) this device may not cause interference, ...