Fuel filler door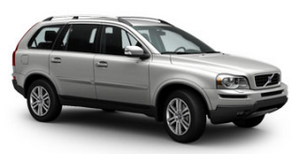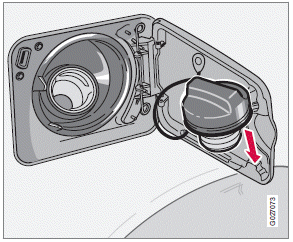 The fuel filler cap can be placed on the hook on the fuel filler door while refueling
Press the button on the light switch panel (see the illustration on page 67) when the vehicle is at a standstill to unlock the fuel filler door.
Please note that the fuel filler door will remain unlocked until the vehicle begins to move forward.
An audible click will be heard when the fuel filler door relocks.
If you intend to leave your vehicle while it is being refueled, this feature enables you to lock the doors/tailgate while leaving the fuel filler door unlocked.
You can also keep the vehicle locked if you remain inside it during refueling. The central locking button does not lock the fuel filler door.
Be sure the fuel filler door is not obstructed and is completely closed after refueling.
Open the fuel filler cap slowly during hot weather.
NOTE
During a transitional period, a small number of service stations may still have fuel nozzles that are not compatible with the fuel filler neck on vehicles equipped with the evaporative control system.
See also:
Power brakes function only when the engine is running
The power brakes utilize vacuum pressure which is only created when the engine is running. Never let the vehicle roll to a stop with the engine switched off. If the power brakes are not working, ...
Locking and unlocking
Locking and unlocking the vehicle from the inside The switch on the driver's door armrest can be used to lock or unlock all doors and the tailgate, and to set the alarm. Each door can also be ...
Shiftlock override
If the vehicle cannot be driven, for example because of a dead battery, the gear selector must be moved from the P position before the vehicle can be moved. 1 Lift away the rubber mat on the ...