IR-reflecting windshield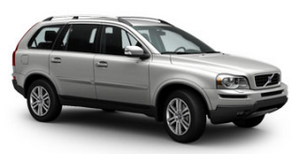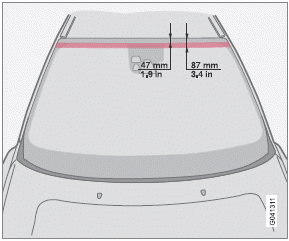 Section of the windshield where the IR-coating is not applied
An optional factory-installed infrared (IR) coating can be applied to the windshield to help protect the cabin from the sun's heat and the fading effect of sunlight on upholstery, panels, etc.
Electronic equipment such as garage door openers, electronic toll tags and similar devices should not be placed on sections of the windshield with the IR coating because this could affect their function and limit their range.
For best performance, place the device on the section of the windshield without the IR coating (see the area marked in the illustration).
See also:
Cleaning the BLIS camera lenses
In order to function optimally, the BLIS camera lenses must be kept clean. They can be wiped clean with a soft cloth or wet sponge. CAUTION • Clean the lenses carefully to avoid scratching. • ...
Color code
Make sure you have the right color. The color code number is stated on the model plate. ...
Environment
Good environmental protection is one of Volvo's cornerstones. All of the engines available in the all-new Volvo S80 are outstandingly economical, given their performance. The manual diesel engin ...