IR-reflecting windshield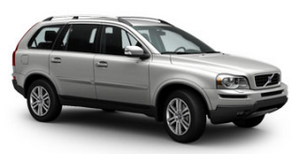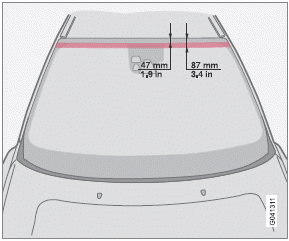 Section of the windshield where the IR-coating is not applied
An optional factory-installed infrared (IR) coating can be applied to the windshield to help protect the cabin from the sun's heat and the fading effect of sunlight on upholstery, panels, etc.
Electronic equipment such as garage door openers, electronic toll tags and similar devices should not be placed on sections of the windshield with the IR coating because this could affect their function and limit their range.
For best performance, place the device on the section of the windshield without the IR coating (see the area marked in the illustration).
See also:
Disconnecting the cell phone
The cell phone is automatically disconnected from the infotainment system if it is moved out of range. The cell phone can be manually disconnected from the hands-free system by pressing and holdi ...
Screen aspect ratio
Three screen aspect ratios can be set: Normal, Zoom 1 and Zoom 2. Normal: The image on the screen is presented at the normal aspect ratio (usually 4:3 or 16:9). Zoom 1: Full-screen image, but par ...
Instrument panel lighting
The instrument panel lighting illuminates when the ignition key is in position II and the light switch (1) is in either position Move the thumb wheel (4) up to increase brightness or down to decr ...